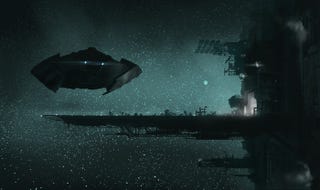 Recently a Kickstarter campaign launched for Elite: Dangerous, a sequel to the classic 1980s space game Elite. The campaign, which ends later today, was seeking £1.25 million — but it got more than that amount, and £13,000 came via Gollancz, the venerable science fiction publisher, which bought the rights to do a book tie-in to the new game.
Gollancz editor Marcus Gipps explains to the Guardian that they'd already talked to Elite co-creator David Braben about doing Elite tie-in novels:
Although it was clear he would be interested in later discussions, his priority was to get money into the Kickstarter, and so – after some discussion in-house as to how to manage it – we decided to go ahead. The way in which Kickstarter and similar websites will change publishing is not yet clear, but Gollancz plans to be at the forefront of digital innovation. This seemed like a perfect chance to try out a new way of acquiring a book!
And Gollancz will be reissuing the classic Elite tie-in novella by the late Robert Holdstock, who was already a Gollancz author, as part of its SF Gateway program of classic SF reissues in ebook format, according to the Guardian. Meanwhile, Gollancz has been embracing new media so much, they even bought a novel via Twitter, from songwriter and performer Mitch Benn. Read more about Gollancz's forays into social media and ebook publishing over at the Guardian.