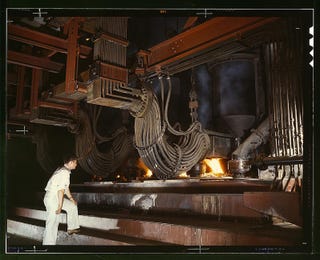 Alfred T. Palmer took this photograph of raw industrial beauty in Alabama, 1942. What you're seeing is an enormous, high-tech (at the time) furnace for making elemental phosphorus, a chemical widely used in fertilizers. You can see the some of the engineering features of this machine in today's ultra-modern server rooms.
The wires on the furnace are bound together in a pattern (and with ginormous ties) that's remarkably similar to these wires in a server room. OK, that's not a big revelation in engineering terms, but it's interesting to see what features are preserved in the evolution of industrial design.
[Royal Pingdom, via Valleywag]
Thanks, once again, to the Library of Congress for making so many cool public domain photos available for free on Flickr. Check out the whole glorious LOC stream.