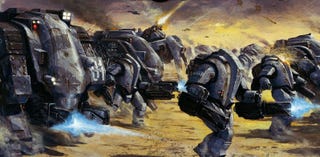 AT 43 is a new miniatures game out from Rackham with bots who battle it out on your tabletop for interstellar dominance. The shot above features a relentless advance of U.N.A. (United Nations of Ava) soldiers, who look a lot more formidable in concept artwork than they will sitting an inch high on your cubicle wall at work. The game is set 43 years after a race called the Therians tried to destroy humanity. This time homo sapiens is launching a counter-attack with the combined might of U.N.A. forces, the Russian Red Blok Army, and super-sentient gorillas wearing armor.
Karl Kopinski did a lot of illustration work for Warhammer 40,000, and he brings the same attention to detail to AT 43, obsessing over details and geeking out with new alien races. The final miniatures (including this set that we want to live on our desk) are actually very close to the concept art, and don't look like your traditional stamped-out plastic gamepieces. They come fully assembled and painted, so you don't have to spend hours trying to make them look pretty before you game.
There's scant information on their website about the game (although the rulebook that you can purchase promises a full history), but you can download excerpts from the rules, as well as a bunch of concept art wallpapers. When you don't hear from us on the weekends, it's not because we're taking a break, it's because we're getting our game on all weekend and trying to conquer the world with miniatures.
AT 43 [AT 43 stuff]