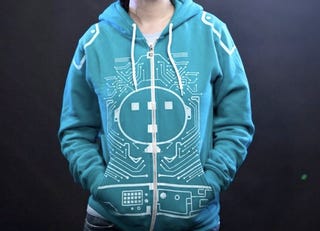 It's the perfect protection on cool spring evenings: A glow-in-the-dark Tron hoodie that makes you look as awesome as Tron Guy without having to wear an entire body stocking.
On sale today at Threadless, Rolf Nelson's "My Other Ride Is A Light Cycle" is a recreation of the outfits the Programs wear inside the computer - right down to the glowy part. You can get it as an emerald blue hoodie, or a lighter blue tee. (I have one of the hoodies, and it's totally cyber-snuggly!)
Nelson, a Texan designer, has contributed 3 other designs to Threadless. He says:
A few years ago I found an old, working Tron machine at a concert venue, and remembered how awesome the movie was. After hearing about the sequel I figured it would be the right time to try unite other Tron fanatics by designing something they could sport all the time.
Tee is $20; hoodie is $45.
You can order one via Threadless.