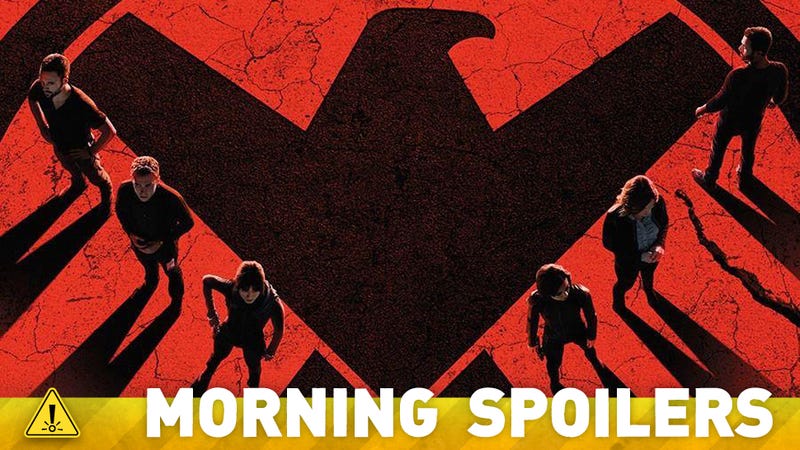 Morning Spoilers
If there's news about upcoming movies and television you're not supposed to know, you'll find it in here.
Check out more telltale Star Wars photos. Bryan Singer officially signs on for X-Men: Apocalypse. Gotham's got plans for the Joker. Plus hints on Batman v. Superman, Jurassic World, Paranormal Activity 5, Agents of SHIELD, Once Upon a Time, American Horror Story and Helix. Spoilers now!

Top image: Agents of SHIELD

Star Wars
As usual, this means nothing without the official confirmation — but rumor has it Scott Derrickson (Doctor Strange) is in line to helm one of the upcoming Star Wars projects. [Jedi News]
There are more shots of what look like X-Wings on the Episode VII set, and these may belong to John Boyega's character. The new paint job on one of them matches his costume, which may mean that he and Adam Driver will fly these things. There's also a shot of an under-construction Millennium Falcon. [Superhero Report, via International Business Times]
---
Star Trek
According to inside sources, Star Trek is still looking to find a way to bring William Shatner to the new films, after losing a planned cameo in the first reboot film. The current script reportedly contains a scene that reunites Shatner's Kirk with Leonard Nimoy's Spock. Apparently, the scene is "plot-driven and integral," and is just waiting for Shatner to agree. [Badass Digest]
---
Batman v. Superman
Henry Lennix, speaking about The Blacklist, gave just the tiniest of details on Batman v. Superman:
"Batman v Superman" ... [Laughs] Well, no. Anybody who's a fan of the '86 graphic novel "The Dark Knight Returns," I think will be well pleased by that. This is a historic event. Clearly, Zack Snyder is on the cutting edge of directing movies of this scope and scale. I think you can depend on the acting — you've got Amy Adams, of course. You've got Henry [Cavill]. I don't think there are any surprises with regard to that. What will happen remains to be seen. I'd probably wind up in a box some place.
[ Moviefone]
---
X-Men: Apocalypse
No shock here, but now it's official: Bryan Singer will direct the next X-Men film. [Deadline]
---
Jurassic World
Another tweet from director Colin Trevorrow, this time featuring what looks like a new version of a sign we saw in the first film. [ Coming Soon]
---
Scouts vs. Zombies
This film has had its release date moved from March 13, 2015 to February 20, 2015.
---
Paranormal Activity: Ghost Dimension
The fifth in the Paranormal Activity series has also moved: from October 25, 2014 to March 13, 2015.
---
Night at the Museum: Secret of the Tomb
Here's a new poster. [First Showing]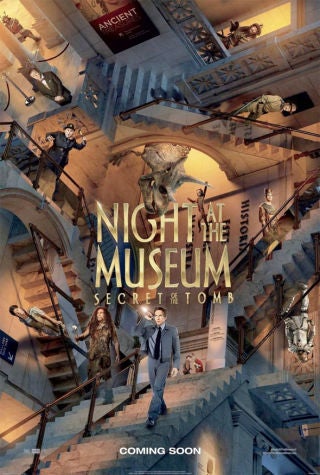 ---
Lavalantula
Here's a poster from the latest Syfy epic, set in Los Angeles and starring Steve Guttenberg, Leslie Easterbrook, and Michael Winslow. [Entertainment Weekly]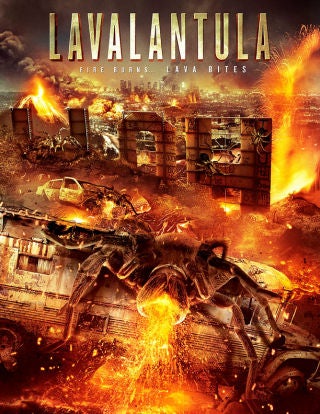 ---
Gotham
Here are some more insights into Jim Gordon from Ben MacKenzie:
He's a war hero and rookie detective who comes back to fulfill his father's legacy. All events that proceed in the pilot change him as they would anyone else in that situation. I let the chips fall where they may. I was more interested in playing him holding on to the thread of being part of his father's legacy. That was kind of the through line I was using. I just don't think there was much of any margin for trying to be like anybody else or trying to do anyone else's performance. It wouldn't work.

... He's surprised at the level of corruption and greed and general immorality in Gotham. It's a constant struggle for him to understand how he will ever possibly succeed in a city that seems to be beyond redemption. He can be surprised at his own ability when confronted with evil to cut a deal with the devil to get things done. That is going to be a large part of him: How does he survive in a city that is as immoral as Gotham and still get things done? You have to come to terms with criminal families, corrupt cops and judges.
Executive producer Bruno Heller described how they'll do the Joker:
"The Joker didn't think of his shtick all by himself. There must have been someone before who The Joker saw and thought, 'Oh, that's a good shtick. I could work with that and make it better.' It's the same with Batman. There must have been other vigilantes before him who didn't pull off such a good act. We'll play around with those ideas in Gotham.

"We're going to wait and get the show up and running [before we meet the real Joker]. We want to get the story right and we want to be tonally right — and then we'll start thinking about how to bring him in. We will certainly try to surprise people, and maybe even trick people.

"It's one of those expectations that everyone will be waiting for, so you can't just present the guy with a big smile and start telling the story. Not that that would be dull, but that's one of those opportunities to really start playing with this.
He also said of possible DC TV crossovers that "actually doing it is scary" but he hopes they do it "at some point. That's the beautiful thing about being inside the DC Universe, but we'll wait and see what pops and what doesn't." [Digital Spy]
David Mazouz said that Bruce Wayne and Selina Kyle's relationship will be fleshed out and that you will learn why the adult Bruce is so willing to trust Jim Gordon. As for the grieving process, Mazouz said of his character:
You will definitely see him go through the different stages of grieving, especially the first half of the first season. As soon as his parents get killed, years and years of maturity go into him. He becomes very adult-like. He says some things that you really will not expect at all a kid to say. He speaks at a level of understanding, his comprehension is amazing of what the city's going through.

You'll see it's just really cool because he is dark, he's scary, he's lonely, he's vulnerable, he's looking for a friend, he's looking for any reason for his parents' death. He becomes compulsive about certain things. He'll grow an obsession starting in the fifth episode of the season or around there. He's going to go through different stages of the grieving process and hopefully soon enough he'll become a "regular" kid again.
[Buddy TV]
Go here for photos from episode three, "The Balloonman." [Coming Soon]
---
Agents of SHIELD
Looks like whatever is happening with Ward this season will at least begin with him being removed from SHIELD's HYDRA hunt:
Ward has his own storyline right now. Season 1 ended when his larynx was bruised by Melinda May in an epic fight that took place in a warehouse. She had that one liner where I was like oh my God this is totally going to be turned into a hashtag. It was the most emasculating thing that I ever heard.

... So I don't have a lot of interaction with all these other storylines. Like you said they are introducing a ton of new characters. I see them randomly on set, but their storylines are completely different. They have their own thing going on and I have my own timeout. (Both laugh.) I am sitting in a corner with a dunce cap on. I have to write on a chalkboard over and over again. You see Coulson writing on a chalkboard? I am in there too. I am writing all work and no play makes Ward a very bad boy over and over again. (Both laugh.)
Jeff Bell explained what bringing Kyle MacLachlan on as Skye's dad will mean for the team:
In many ways last year, Coulson was a surrogate father to Skye and any time you have a show about a team, it is a metaphor for a family. And so to be able to bring on a character's birth father as well as have a character's surrogate father, I think there's opportunities for really rich storytelling. So there's a lot of exciting things to figure out. Who this guy is and what happened and what's the truth? Because everyone seems to have a different opinion or heard a different story on what happened.
[TV Guide]
Speaking of Skye, Chloe Bennet described what it means for Skye to have a new supervising officer and director:
One big change for Skye is having Agent Melinda May as her new supervising officer. This will bring both characters closer together, and cause May to soften up a bit on Skye. Bennet says their relationship is "as close as May will get to people," and "she's definitely taken me under her wing a lot."

Skye's relationship with Coulson will also be different than it was in Season 1. Bennet teases a "dynamic shift" between the two characters, but Skye remains steadfastly committed to the team. Skye's two top priorities are "to find out more about how to help Coulson rebuild SHIELD, and also her family."
[Zap 2 It]
Jed Whedon and Maurissa Tancharoen also talked about the difference between season 1 and now:
Maurissa Tancharoen: We're living in a new paradigm. S.H.I.E.L.D. and Hydra are viewed as one and the same and basically seen as a terrorist organization by the world. So Coulson and his team have been essentially driven underground, forced to truly operate in the shadows.

Jed Whedon: We get to see them as true underdogs for the first time. You got a little taste of it at the end of last season, but most of the season we had all the support and all the billions of dollars we could ever want behind us and now we get to see them as a true underdog. We also get to see Coulson stepping into a new role and not only have to wrestle with how do you rebuild something from the ground up, but what does it mean to be the boss of it?
They also discussed how Coulson's new position will affect him and the team:
Tancharoen: It absolutely changes the dynamic. He may be just a bit more isolated because he has to make these decisions that he knows the team won't necessarily agree with.

Whedon: One of the things he has to be very careful of in rebuilding S.H.I.E.L.D. is making sure that it doesn't get poisoned at the roots as it did the last time. One of his approaches will be to make sure everything's compartmentalized so that he can remove an aspect at any point.

Tancharoen: And compartmentalization is something he was a victim of last season, so it'll be interesting to see him grapple with the idea that in order to keep his team safe–

Whedon: He needs to keep secrets.
---
Once Upon a Time
Here's a little tidbit cut from the season finale: the showrunners wanted wanted to have Jamie Dornan (who played the Huntsman in season 1) return in the time travel plot:
"We wanted a Peggy Sue Got Married moment," Kitsis tells EW, explaining that Emma would've seen Graham when she was locked up in the Evil Queen's castle.

"He would've been one of the guards because it would've been during that period," adds Horowitz. "She would've seen him, and it would've been heartbreaking for her because she would've wanted to reach out to him, but knowing that—because she's on a mission—she couldn't. It wasn't a big plot thing, but it was an emotional moment that we wanted to do."
The E! preview of the premiere says that the Frozen characters are just like their animated counterparts and will debunk the theory connecting Frozen to Tangled. There's also a Belle and Rumplestiltskin dance scene and the "best twist" is apparently related to Regina's reaction to Marion and Robin Hood's reunion. [E! Online]
Here are the first seven minutes of the season premiere. [via SpoilerTV]
And here's a sneak peek. [via SpoilerTV]
---
The Flash
The CW's ordered three more scripts of the show, which seems like a vote of confidence. [Deadline]
---
Doctor Who
Here's a the official trailer of "The Caretaker":
---
American Horror Story
Here's the synopsis for episode 4.03, "Edward Mordrake Pt. 1":
Episode 4.03 - Edward Mordrake, Pt 1

(Airs October 22, 10:00 pm e/p)

The Freaks refuse to perform on Halloween due to an old carny superstition. Jimmy is smitten by a woman claiming to be a fortuneteller. Ethel receives life-changing news.

Written by James Wong; directed by Michael Uppendahl.
---
Witches of East End
Here's a deleted scene from the last episode, "Fall of the House of Beauchamp." [TV Line]
---
The Strain
Here's a promo for the season finale, "Last Rites." [via SpoilerTV]
---
Helix
From the writers room and Steve Maeda on Twitter, we know the titles of the first four episodes:
2.01: "San Jose"
2.02: "Réunion
2.03: "Scion"
2.04: "Densho"
[via SpoilerTV]
Additional reporting by Charlie Jane Anders and Diana Biller