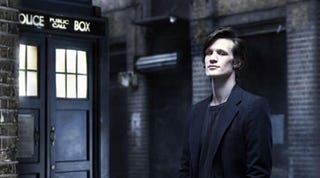 Here's hoping that we all like Matt Smith as the eleventh Doctor Who, because it looks as if he's going to be around for at least three years, according to reports.
British newspaper The Sun is reporting that Smith has signed on for a three-year stint as the BBC's new Timelord, with the option for the contract to be extended a further two years if necessary. The reason for the long term nature of the deal, according to the papers' anonymous source? Abandonment issues, apparently:
Bosses don't want Matt doing a David and leaving when things are going great.
So, in order to stop Smith "doing a David," they sign him up for three years... which is a year less than Tennant spent on the show? Something tells me that the anonymous source may not be entirely real here.
'Who' star to earn £1m in five-year deal [Digital Spy]