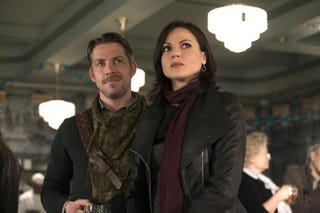 Starting with its third season, Once Upon a Time has divided its seasons into two complete and different arcs — one in fall and one in spring. Season 4's first arc is devoted to the Frozen characters joining the Storybrooke crew and the second apparently deals with Maleficent in some way. At New York Comic Con, executive producers Eddy Kitsis and Adam Horowitz revealed what would tie both halves of the season together.
Spoilers ahead, as revealed at the panel...
It's Regina and the book of fairy tales. A lot of this season's apparently about Regina, with Jennifer Morrison saying that Emma will "prove" that she wants to be Regina's friend in season 4. Morrison pointed out that the two have a lot in common and that, until Elsa appeared, Regina was the only person she could connect with who had magic.
The panel showed Sunday's episode, which showed the very beginnings of Regina and Henry teaming up to discover more about the book of fairy tales that set things in motion in season 1. The search for answers — and the book's author — will "transcend" the both halves of the season, said Kitsis. He also cleared up a point of confusion: "August is not the writer. We saw him alter the book in Season 1."
Other bits of news were that episode 3 will focus on a Hook and Rumplestiltskin's confrontation, a precursor of which is in this Sunday's episode; Hook and Emma will go on their first real date and, said Kitsis, "not at Granny's"; Rumplestiltskin has some connection to the Snow Queen and, with regard to that, "Everything he is doing is for a reason, and that reason is for the benefit of himself"; and Emma and the Snow Queen are connected in some way.