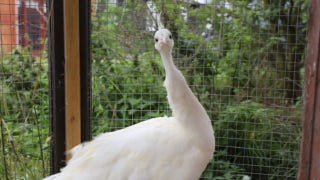 Why did the white mutant peacock cross the road? This question was a source of great discussion and consternation in the Ilford area of Greater London, where a mutant white peacock was wandering across the street near the Newbury Park station.
The mutant — who appears to be an albino, but is actually a cross between two colored peacocks — wandered away from his owner, one Shirley Rudge, who owns 11 peacocks in total. Rudge says it's not unusual for the males to go on a bit of a wander during mating season, but this was the wrong time of year for that. The mysterious white peacock gave rise to articles in the Ilford Recorder, plus "numerous phone calls, emails, and honestly, tweets," the paper says.
But now the bird is back home with Rudge, who tells the paper:
I don't know why he's suddenly taken to escaping. He was 500 yards down the road and when he walks you struggle to keep up with him. He's a bit of a loner wanders off on his own... Sometimes the boys in the spring get out looking for girlfriends but it's the wrong time of year. He's now in a cage which is just against anything I have worked for.
Insert your own joke about how the mutant bird was actually running away to join the X-birds. [via Nothing To Do With Arbroath]