A man from the future travels back in time to stalk a failed romance novelist. Stargate's Joe Flanigan gets trapped on a bizarre, deadly planet. Ozzy Osbourne becomes the Earth Troll and teaches about recycling. Meet K-999 the robot dog.
Plus Vampire Diaries is back and possibly crazier than ever, No Ordinary Family goes out with a bang, MythBusters returns, and Rodney McKay comes to Stargate Universe. Television is here to solve all your problems!
Today:
There's a new Adventure Time with Finn & Jake on the Cartoon Network at 8 ("Belly of the Beast"), followed by a new Regular Show at 8:30 ("Muscle Woman").
And then at 8:45, there's the premiere of a new show called The Problem Solverz on Cartoon Network. With a great tagline: "Warning: The Problem Solverz are not reponsible for the problems caused by the problems they solve."
Monday nights are about to get funnier with the premiere of Cartoon Network's new animated comedy series, The Problem Solverz. Created by celebrated artist Ben Jones, The Problem Solverz presents a fresh, distinctive visual style and tone that is as entertaining as it is intriguing. The series follows three crazy young dudes, Horace, Roba and Alfe, the proprietors of an unorthodox detective agency dedicated to solving the mysteries of the universe, one case at a time. Here, no case is too trivial or too weird, whether it's a lost cat matching wits with a rogue giant rollerblade or simply collecting clues to decipher mystical riddles, The Problem Solverz are up to the challenge!
And it includes a robot dog called K-999, who looks like a really fucked up K-9 from Doctor Who. Here's a picture of K-999:

The Event is on NBC at 9 PM, with "You Bury Other Things Too."
Sophia (Laura Innes) and the other Sleepers mourn their losses after negotiations are derailed. While observing Simon's (Ian Anthony Dale) reaction to the events, Sterling (Zeljko Ivanek) begins to doubt his loyalties and devises a test. President Martinez (Blair Underwood) tasks Senator Catherine Lewis (guest star Virginia Madsen, "Sideways") with rooting out any other moles within the White House. Elsewhere, Sean (Jason Ritter) and Vicky (Taylor Cole) are on the verge of tracking down Dempsey (guest star Hal Holbrook, "Water for Elephants"), but it may be exactly what he was anticipating.
At 9 PM, there's Syfy's remake of Being Human, "You're The One That I Haunt."
Stargate Universe is on Syfy at 10 PM, with "Seizure." Featuring Rodney McKay!
Rush slips into a coma in the neural interface chair, and Amanda connects with him in the ship's matrix, but Ginn informs Eli of a problem with that scenario. Elsewhere, Dr. Rodney McKay's plan to dial the ninth chevron address hits a snag.
G/O Media may get a commission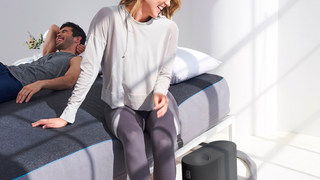 Eight Sleep Pod Cover
Tuesday:
The season (and probably series) finale of No Ordinary Family on ABC at 8 PM — just as this show finally hits its stride with a couple of great episodes, it's reaching an ending, with "No Ordinary Beginning."
The Powells must join together to save JJ, who's been kidnapped, courtesy of Mrs. X (Lucy Lawless) and forced to solve an enigma that could lead to the permanence of the trilsettum's effects. Meanwhile, Joshua reconnects with Katie and discovers that he's about to become a father, and George's fate hangs in the balance as a prisoner aboard a plane that's quickly spiraling out of control and about to crash.
Also, the Discovery Channel is having MythBusters episodes all evening, in preparation for the show's triumphant return.
Wednesday:
At 9 PM, there's the season premiere of MythBusters on Discovery, with "Mission Impossible Mask":
Adam and Jamie face off with a myth of misdirection and Kari, Grant and Tory go ballistic with two filmic firearms fables.
At 11 PM, SOAPNet has another episode of Being Erica, "Adam's Family."
Thursday:
The Vampire Diaries is back on The CW at 8 PM:
HIDE IN PLAIN SIGHT - Elena (Nina Dobrev) and Alaric (Matt Davis) both lash out at John (guest star David Anders) when Isobel's (guest star Mia Kirshner) unexpected arrival leaves Jenna (Sara Canning) devastated. Bonnie (Katerina Graham) works with Damon (Ian Somerhalder) and Jeremy (Steven R. McQueen) to find the spell they'll need to harness her ancestors' power. A heartbroken Caroline (Candice Accola) doesn't know what to do about Matt (Zach Roerig). Stefan (Paul Wesley) and Damon realize they have a new secret weapon.
At 8 PM, there's a new Big Bang Theory on CBS, "The Herb Garden Germination."
And then there's a new Nikita at 9 PM. We watched this one at Wondercon and it was a pretty amazing hour of television:
MICHAEL CONFRONTS NIKITA - Michael (Shane West) confronts Nikita (Maggie Q) in her lair and reveals that he knows Alex (Lyndsy Fonseca) is the mole. He tells Nikita that she has 24 hours to find Kasim (guest star Haaz Sleiman), the man who killed Michael's family, or he will tell Percy (Xander Berekley) about Alex.
At 10 PM, there's another episode of the superspy-parody Archer, on FX, with "Jeu Monagasque."
When a mysterious stranger summons Malory and her intrepid ISIS agents to Monaco, all bets are off! Well, actually all bets are on. Because Monaco is basically one giant casino, and Archer has $4 million in untraceable bearer bonds. Also, it's Gran Prix week, so you can just forget getting a hotel room.
Also at 10 PM: National Geographic has a special: Man Vs. Volcano.
Friday:
Cartoon Network has a full slate of programs. It starts at 6:30 PM with Batman: The Brave and the Bold, "The Malicious Mr. Mind!" In keeping with this show's tradition, the episode already aired months ago overseas. Here's a clip!
Then at 7:00, there's a new Ben 10: Ultimate Alien. That's followed by a new Generator Rex at 7:30 PM.
It's also worth mentioning that Ozzy Osbourne is playing something called the Earth Troll in a new episode of Fish Hooks on Disney at 8:45 PM:
In an attempt to get Milo to change his careless ways and to see the importance of recycling, Oscar appeals to him in the only way that will work — by disguising himself as a "magical dude" named the Earth Troll (played by Ozzy Osbourne). The plan seems to work until Milo starts to take recycling too far and ends up endangering the quality of life for his teachers and friends.
At 10 PM, Starz has a new Camelot, which is on opposite the season finale of Merlin on Syfy. Which mock-Arthurian pageant will you choose?
Or you could also check out the crowd-sourced TV show Bar Karma, on CurrentTV at 10 PM
Saturday:
At 9:30 AM, there's the first season finale of Sym-Bionic Titan, "A Hero Returns."
The Hub, the cable channel for kids, is having its usual two-hour bloc of cartoons from 7 to 9 (or 4 to 6 on the West Coast.) There's Transformers Prime, G.I. Joe Renegades, Dan Vs. and R.L. Stine's the Haunting Hour: The Series. At least some of those episodes are new.
At 9 PM, BBC America has the third season finale of the original British Being Human, "Wolf-Shaped Bullet":
Annie stays to comfort Mitchell in a police cell after he's arrested on suspicion of being the perpetrator of the Box Tunnel 20 massacre. Is this how the world discovers vampires, werewolves and ghosts?
Also at 9, Syfy has another original movie, Ferocious Planet, in which
an experimental device designed to view alternate universes malfunctions on its first demonstration, transporting a group of observers into a nightmarish new dimension. The team must use ingenuity and courage to outwit the bloodthirsty creatures of this bizarre world, while trying to repair the damaged machine and return home. Ferocious Planet stars John Rhys-Davies and Joe Flanigan.
And National Geographic has the compelling sounding special, How Big Can It Get?: Croczilla, also at 9 PM. Followed at 10 PM by How Big Can It Get?: Dragonzilla. (I think "Dragonzilla" might be a bit of a redundancy.)
Sunday:
At 8 PM, ABC Family is premiering a new TV movie called My Future Boyfriend. We've watched bits of it, and it's pretty amazingly cheesetastic. Here's the synopsis:
P-A-X-497/341, aka "Pax" (Barry Watson), a curious young man from the well-ordered but loveless future, travels to present day New Orleans in search of romance novelist Elizabeth Barrett (Sara Rue) - whose book he has come upon during an archeological dig in the year 3127. Hoping Elizabeth can explain the concept of love to him, which is now nonexistent in his time, Pax embarks on an adventure filled with new discoveries. Elizabeth introduces Pax to life in the year 2011, filled with love, music and of course, destiny.
Check out the trailer.
Also at 8, Fox has its animation bloc, with new episodes of The Simpsons, Bob's Burgers, Family Guy and Cleveland Show.
The Science Channel is still re-showing all the original episodes of Joss Whedon's Firefly, with special segments featuring physicist Michio Kaku. Tonight, there's "Our Mrs. Reynolds" at 9 PM and "Jaynestown" at 10 PM.
And then at midnight, there's a new Superjail! on Cartoon Network's Adult Swim, "Mayhem Donor."
Sources: Futon Critic, TV Guide, and various TV studios.