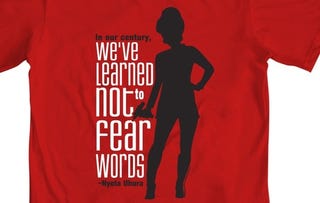 I totally adore this Star Trek T-shirt, sporting an inspirational quote from Lt. Uhura, about quite possibly the most important advancement of the utopian 23rd century: its fearlessness. Lt. Uhura doesn't have to be afraid of anything anybody says to her.
This design by James Mitchell is just one of the winners in We Love Fine's Star Trek shirt contest - and this one was chosen by a celebrity judge, Nichelle Nichols herself. Check out more of the winners below.
Enterprise Seven by Michael Swank, chosen by Q actor John de Lancie
RUNNER UP: Another great Uhura shirt by Timothy Lim
RUNNER UP: Choose Your Captain by Troy Dunham
HONORABLE MENTION: Spock Pocket by Anna Pants.
See more of the winners and runners up over at WeLoveFine.