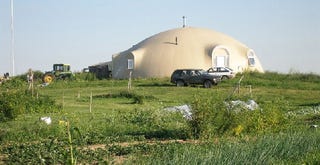 Deep in the heart of Saskatchewan, in the beautiful prairie city of Saskatoon, you can find one of the most futuristic building businesses in the world. It's Canadian Dome Industries, a company responsible for building the monolithic dome house you see above, in Red Deer, Alberta. The monolithic dome house, which has become popular among eco-conscious types all over the world, is incredibly sturdy and energy efficient. Dome houses like this one in Red Deer are completely off the energy grid; and a dome house in Florida famously withstood several hurricanes. Want to see more domes?
Here is a cutaway view of a dome, showing you what it's made of.

And here's a recently-completed expansion to the School of Communication Arts in Raleigh, North Carolina. It's made of three two-story domes, with 120 foot diameters. They call it the "art school of the 25th century."


And here's a huge, 5,600 square foot dome with domettes, in Colorado. It's for sale, and you can check out interior photos here.


Of course, we couldn't forget the Florida luxury dome. Are these the houses of the future? I could actually see them becoming more popular in disaster-prone areas like Florida, where hurricanes tear the crap out of people's houses all the time.

If you need to ogle more domes, there's a whole bunch of them at the Monolithic Dome Institute.