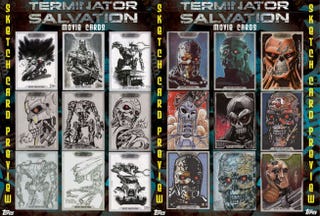 New Terminator Salvation trading cards showcase a handful of the killer-machine faces that haunt the minds of the resistance fighters of 2018. And there are a few new stills from the movie itself.
The trading cards retail at $2.00 a pack and show many stills from our post apocalyptic ruins. According to the press release:
The Topps card series will comprise 90 base cards highlighting many memorable moments from Terminator Salvation, including key effects sequences. Extra-special, random insert cards will feature the film's star robots in Embossed Foil as well as Pop-Up Battle Cards. Additionally, selected packs will contain random, one-of-a-kind Artist Sketch Cards, Authentic Autograph Cards or Memorabilia Cards embedded with actor-worn costume materials.