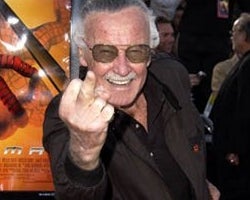 Proving that you only have to die creatively instead of literally before receiving any kind of lifetime achievement award, Marvel Comics co-creator Stan Lee will be given the first "New York Comic Legend Award" as part of this year's New York Comic-Con. The award recognizes not only his amazing contribution to the comic medium, but also his voice-over talent that started each and every episode of Spider-Man and His Amazing Friends.
The Award is only the tip of Lee's involvement with NYCC - "Stan The Man" will also be appearing on multiple panels at the April event, and is so overwhelmed with excitement that his talent for tongue-in-cheek self-promotion has been re-engergized:
Even though Los Angeles has been my play pen for the past few decades, I'll always consider New York my home town. It's the beautiful city where I was born (a beautiful baby!) grew up (beautifully!), got married to my beautiful wife and had my beautiful daughter. (When I find an adjective I like, I stick with it!)

So, whenever I can wheedle an opportunity to return to the greatest city in the world, it's an indescribable thrill for me. And, to make it even more fabulous, it gives me the chance to meet old friends— artists, writers, editors, fans, all sorts of terrific people who speak the same language— the language of creativity.

Hey, what I'm trying to say is— I can't wait to see ya!

Excelsior!
Someone who's attending the convention - running April 18th through 20th at the Jacob K. Javits Center - please, please ask him what the hell he was thinking when he came up with She-Hulk. And, punsters out there, don't even think of answering "the green."
Stan Lee To Receive New York Comics Legend Award at NYCC [Newsarama]