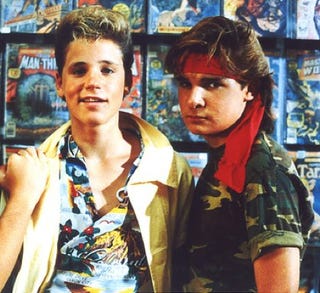 Corey Haim may have been cruelly omitted from the Academy Awards' "In Memoriam" segment, but his memory will stay alive in our hearts always. Especially if studios keep making Lost Boys movies (and TV shows) starring Corey Feldman.
Bloody Disgusting is reporting that Warner Bros is mere moments away from announcing their plans to green-light yet another movie about vampire-hunters. If you haven't been following on the current Lost Boys saga, let us clue you in — Feldman and Haim continued finding and killing vampires, until Haim became the very thing he hated: a blood sucker. We can only assume that after Haim's sad passing the next installment in the Lost Boys franchise will just be Feldman fighting the fangers solo.
Meanwhile, a potential Lost Boys TV series is in the works, although there's no deadline for a pilot to be ready to shop around.