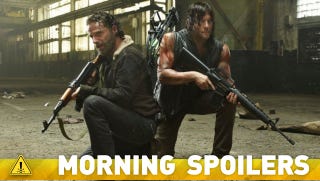 Morning Spoilers
If there's news about upcoming movies and television you're not supposed to know, you'll find it in here.
Oscar Isaac drops some tantalizing Star Wars hints. The Deadpool writer insists there's been no decision on the film's rating. Two Game of Thrones actors join Pride & Prejudice & Zombies. Syfy is making a show about alien terrorists. Plus Person of Interest, Walking Dead and Agent Carter! Spoilers now!
Top image: The Walking Dead
Star Wars
Oscar Isaac has said that he's been spending a lot of time, on-screen and off, with Carrie Fisher, Mark Hamill, and Harrison Ford:
Have you had much interactions with the original trio of Carrie Fisher, Harrison Ford, and Mark Hamill on or off-screen?

Yeah, I have. Both. They're such funny people. Carrie is hilarious and doing such cool work. Harrison is back. He went on hiatus for a little while, but he's 150 percent back. It's pretty amazing to see him bounce back. He looks incredible. Everyone's having a really good time. J.J. sets that tone. There's a lot of enthusiasm and it's being done with a lot of heart. There's nothing cynical about the way we're doing this. Even in the way he's shooting it—he's shooting on film and actually building the sets, so you've got hundreds of Stormtroopers or whatever, and hundreds of extras and all the ships. You actually see it. It's all real. Everyone can interact with the world.
The fact that he specifically mentions Ford and Fisher could be an indication that most of his screen time is with them, which supports the popular fan theory that he's playing a Solo child. He also talked a little bit about the script and how it differs from the original trilogy:
I'm constantly looking for a cheesy line to say to harken back to the old ones. No, what they're trying to do and what's really great is J.J.'s been loosening it up a little bit and trying to make it alive and energized. It's not formal. They're messy, energized people. We've all intentionally tried to do that. Just make it a little more fiery and messy.
---
Deadpool
In response to that PG-13 rumor, writer Rhett Reese took to Twitter. [via Comic Book Resources]
---
Pride and Prejudice and Zombies
This Jane Austen spinoff gained a couple of Lannisters: Charles Dance and Lena Headey both joined the cast. They join already-announced castmembers Lily James, Sam Riley, Bella Heathcoate, Jack Huston, Douglas Booth, Matt Smith, and Suki Waterhouse. Screen Gems just nabbed the U.S. distribution rights to this film. [Deadline]
---
Hansel and Gretel: Witch Hunters 2
Jeremy Renner said that he's game to return to the role of Hansel:
They haven't contacted you yet?

Yeah (they have not), and it's ultimately going to come down to—I know they have a release date and they really want to get it out there—but I have to have the time. I'm only one man, right? And then also Gemma's availability. It'll come down to availability I'm sure.

But would you be game to go back?

I don't have any problem with it. Yeah. It was a lot of fun. It was fun to do that movie, and just have a ball.
---
Annabelle
Go here for more photos from the Conjuring spinoff. [Coming Soon]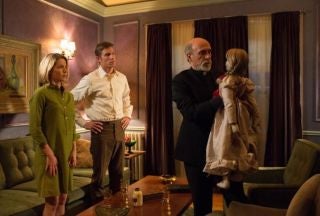 ---
Agents of SHIELD
Jed Whedon and Maurissa Tancharoen answered a bunch of fan questions, including one about how many episodes BJ Britt will appear in as Trip:
Tancharoen: We love Trip, and BJ Britt. He's in every episode so far. We also love Patton Oswalt — as does every other television show he appears in, which is at least a hundred. A lot of "regular" vs. "recurring" has to do with the complex game of scheduling multiple actors for a fixed budget who each have multiple projects.

Whedon: So all we can say is — both these actors will be in as many episodes as possible.
They also hinted at a return for Blizzard (Donnie Gill) and Graviton (Dr. Franklin Hall):
Whedon: We have plans for both Gill and Hall, some short term, some long term. It is never our intent to introduce something without milking it for all it's worth.
Adrianne Palicki has said barely anything about her upcoming appearance as Bobbi Morse:
How many episodes of "Agents of S.H.I.E.L.D." will you be on?

You know, some. I can't really divulge too much information but it's definitely more than one.

When something in the Marvel universe comes along, do you just jump at that?

There's fear in it too. I know if I play this character, I probably would never play another Marvel character. There's different questions you have to ask, and you ask about that too. Where is this character going? All those silly fears that you get being locked into something, but I have to say working with this group of people has been amazing. These producers and show runners are fantastic and I trust them implicitly. Marvel's been really fun to work with as well, so I'm looking forward to it and I hope it's a long run for us.
---
Game of Thrones
The latest set photos come from Northern Ireland, where the show is filming some scenes at Winterfell — that's right, the Stark family castle, which burned down a while back. Looks like it's being rebuilt. And the weirwood is still there, which could mean that Bran Stark will be able to put in an appearance using his new powers. More photos at the link. [Los Siete Reinos via Winter is Coming]
---
Person of Interest
Executive producer Greg Plageman cautions against seeing Samaritan as "evil":
"It's not that we believe one machine is evil and one is not," he says. "I think the word indifferent is the scarier word here. [Samaritan] is a machine that's going to do what it's dictated to do. It's not necessarily out to get us, it's just that we may become collateral damage in what its ultimate goal is. Greer certainly has plans, but those are best-laid plans when it comes to an entity more intelligent than us."
He also commented on the role Root will play this season:
Root intuitively understands that this is a cold war. It's going to become a difficult season for Root in terms of her relationship to the Machine and trying to understand what they're supposed to be doing. She all along has been its acolyte and someone who has believed almost with a fervor in the Machine's guidance. Root becomes the bridge between the two entities in terms of the necessity of trying to get Harold to acknowledge what Reese and Shaw are inevitably going to do.
[TV Guide]
And here's a synopsis for episode 4.04, "Brotherhood":
REESE MUST PROTECT A YOUNG BROTHER AND SISTER WHEN HIS COVER JOB AT THE NYPD COLLIDES WITH THE MACHINE'S LATEST NUMBERS, ON "PERSON OF INTEREST," TUESDAY, OCT. 14

"Brotherhood" – Reese's cover job as a detective at the NYPD becomes complicated when the young brother and sister he's protecting become targets of a gang investigation, on PERSON OF INTEREST, Tuesday, Oct. 14 (10:01-11:00 PM, ET/PT) on the CBS Television Network.

CHEAT TWEET: Can Reese protect young siblings without blowing his NYPD cover? #PersonOfInterest 10/14 10:01pm

REGULAR CAST:

Jim Caviezel (John Reese)

Michael Emerson (Harold Finch)

Kevin Chapman (Lionel Fusco)

Sarah Shahi (Sameen Shaw)

Amy Acker (Root)

RECURRING CAST:

Enrico Colantoni (Elias)

Jamie Hector (Link)

GUEST CAST:

Amir Mitchell-Townes (Malcolm)

Kaci Walfall (Tracie)

Winston Duke (Mini)

Rosie Benton (Erica)

Alex Moggridge (Thomsen)

Alexandra Underwood (Queen Bee)

Tobias Truvillion (Trig)

Jermel Howard (Modeley)

WRITTEN BY: Denise The

DIRECTED BY: Chris Fisher
---
Powers
Brian Michael Bendis announced via his Tumblr that Logan Browning will play Zora, Andrew Sensenig will play Triphammer, and Justice Leak will play Detective Kutter. [Comic Book Resources]
Here are some shots from the upcoming series. [Comic Book Resources]
---
The Walking Dead
Steven Yuen said that Glenn'll still be growing up this season:
We first met him as the plucky kid who's kind of down to do anything, but wasn't really watching out for himself. We found him take value in himself. We found him grow into himself. I think this apocalypse had made him into someone that is reaching his true potential, whereas society might mot have let him get there. He's really getting to know what he's made of. He's proved his worth quite a bit. At this point we also see him very hardened. Even though he does seek humanity, he does seek hopefulness, there is a semblance of understanding the world that he lives in, which is very brutal and I think it's this struggle that he kind of wars with in his own mind which is, which way do you go? And I think he's still growing in that respect. But he's definitely probably the man he never dreamed he could be at this point

... He set out on a quest that was pretty much against all odds and he came out on top. He found his wife. And I think for him that's something that's solidified a sense of humanity in him, a sense of hopefulness in him that continues to persevere even though he continues to face some many terrible things.
---
Agent Carter
Shea Wigham Shea Whigham (Boardwalk Empire, Silver Linings Playbook) has been cast as "the tough but fair-minded" SSR Chief Roger Dooley. [Marvel]
---
The Vampire Diaries
Julie Plec says that there will be a number of "conflict providers" this season, but as for the main villain:
There is a villain-esque person in this season that I'm particularly excited about because it does break the mold a little bit of our villains, which seem to be often very redeemable in their own way. And we get to explore the deep, dark minds of a psychopathic personality, so I'm very excited about that.
---
The Originals
Jospeh Morgan described where Klaus will be when the season premieres:
When we catch up with him, it's a broken home we find him living in. He's locked himself in the compound. Elijah is there, Hayley is there, but they're living like three strangers together. They're very disconnected. There's a baby-sized gap in their lives, so he is, in typical Klaus fashion, he's going to deal with it in the bloodiest most violent way possible. He's just been waiting for the right moment and that moment arrives in episode 1, in fact. So he's very keen to get down to some dastardly business.
At the link, there's a sneak peek video. [Entertainment Weekly]
---
Once Upon a Time
We still don't know who Elizabeth Mitchell is playing, although people have been guessing that it's the Snow Queen. We do know that she's playing a villain in the first half of the season and, according to EP Adam Horowitz, "When you see her character, it will be everything you wanted her to be." [Entertainment Weekly]
Go to the link for more photos from the set. [YVRShoots]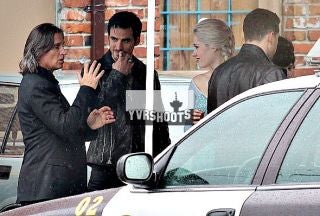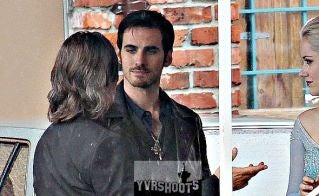 ---
Hunters
Syfy has ordered 13 episodes of a series about an alien terrorism network on Earth, based on the book Alien Hunter by Whitley Strieber. [Entertainment Weekly]
---
The Librarians
Go here for more cast photos and photos from the premiere, "The Crown of King Arthur." [SpoilerTV]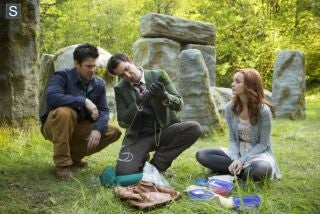 ---
Doctor Who
Go here for more promo photos from "The Caretaker." [SpoilerTV]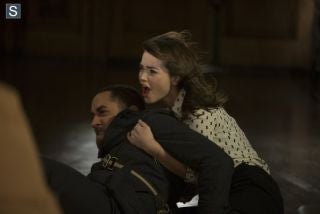 ---
Witches of East End
Here are the synopses for the last two episodes of the season:
Episode 2.12 - "Box to the Future"

Joanna is about to retrieve the Anima Aucupe, but, unbeknownst to her, Nikolaus has sent Tarkoff back in time to stop her. Back in the present, Frederick has become suspicious of Ingrid's intentions and worries that Dash may be involved. Nikolaus remembers Dash from his former life – Bastian – and decides to pay him a visit. Meanwhile, Wendy and Freya have lost the key needed to return to the present and frantically retrace their steps. Once opened, the time travel portal is only open for 12 hours, and after that, it disappears... stranding those who don't return and damning them to a painful death.

Episode 2.13 - "The Gathering" (Season Finale)

With Joanna held under Tarkoff's spell, it's up to Wendy and Freya to save her and find a way out of the past now that the portal has closed. Ingrid is still being held captive by Nikolaus and is horrified when she learns the real reason for wanting his family back together. Frederick may be her only hope, but she still isn't sure where his true allegiances lie. They'll need to work together and pull all available resources, including Dash, to help Joanna and the others return home and kill Nikolaus once and for all. Meanwhile, Dash has worries of his own as Raven closes in on finding Kyle Hutton's killer
---
Haven
Here's a sneak peek for episode 5.04, "Much Ado About Mara." [via SpoilerTV]
---
The Strain
Go here for more photos from episode 1.12, "Last Rites." [SpoilerTV]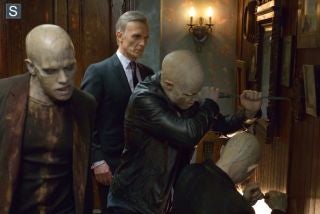 ---
Forever
Go here for images from episode 1.03. Below is the synopsis for "Fountain of Youth":
Henry is interested in aging and how to die, but New York's wealthy elderly are chasing a way to turn back the clock. A clinic is dispensing a pricey product – Aterna – which is supposed to provide the much sought after fountain of youth. But instead, Henry and Jo are confronted with multiple deaths from the costly potion, which instead of revolutionizing the aging process, is turning people's brains into swiss cheese. Meanwhile Henry remembers back to dear friend who was diagnosed with tuberculosis in 1906 and discovers a link to this current case. Unbeknownst to Henry, Abe, who would love to be young and youthful again, is tempted to try Aterna. And Henry learns however long you live, you must live every day and hour like it's your last, on "Forever," TUESDAY, SEPTEMBER 30 (10:00-11:00 p.m., ET), on the ABC Television Network.

"Forever" stars Ioan Gruffudd as Henry, Judd Hirsch as Abe, Alana De La Garza as Detective Jo Martinez, Lorraine Toussaint as Lt. Joanne Reece, Donnie Keshawarz as Detective Hanson and Joel David Moore as Lucas.

Guest starring are Eric Morris as Dr. James Carter, Steve Cirbus as Anton Vann, Christina Bennett Lind as Sasha Savchenko, DonnaMarie Recco as Laura Graff and Mather Zickel as Dr. Frederick Gardner.
---
Supernatural
Episode 10.07 will be called "Girls, Girls, Girls." [SpoilerTV]
---
Grimm
Episode 4.08 will be called "Chupacabra." [SpoilerTV]
Additional reporting by Charlie Jane Anders and Diana Biller