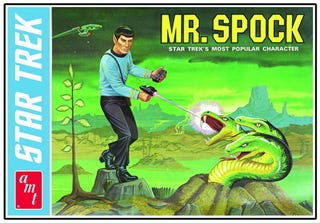 Chances are, your rare toys, comics and other collectibles aren't just awesome — they're worth serious cash. But how can you get what they're worth in such a lousy economy? Don't panic: We've collected surefire shwag-selling tips from top sellers.
It's not the best time to be selling your stuff online, says Ray Heikes, who sells on eBay as Mr. Halloween Man. "Between the economy and what i believe is eBay's declining market share among online retail sites, this years sales have been dismal."
But another eBay seller, Lynch, says you can still do well in these tough times:
The economic times have only dented business. Some things have dropped where other items have exceeded their guide value. I was able to get $150 for a 1965 Spider-Man iron-on which now sells for $50-$75. However, a seller I know just sold a set of Marvelmania pinbacks for almost $4,000 which is the highest they have ever gone. A buyer I know just paid nearly $2,500 for two Marvel Comics plastic pillows from 1968.
eBay's traffic was way down back in March, but has bounced back for July and early August, according to analysts.
Even when unemployment and GDP growth numbers are enough to make Ben Bernanke cry, people still want to buy your rare Boba Fett action figure or your talking Dalek. Some things are just necessities of life, you know?
I've experienced the trauma of selling a prized item online, for way less than I thought it should have been worth. So I was eager to get some tips on selling your shwag online, for what it's actually worth. Here are the tips I found out, grouped by category:
Presentation
You're competing with a lot of other sellers out there, so anything you can do to make your item stand out will be a big help.
Know the obscure keywords. Suppose you've got a vintage Spider-Man toy. Anybody would know to put "spider-man" or "marvel" in the keywords, but there are keywords that only deep fans will know about, says Lynch, a top eBay seller.
I place several keywords in my auctions. Marvelmania is the greatest attention getter. It was a fanclub but has since evolved into a term that means the best Marvel Comics collectibles of the 1960's (Silver-Age). Other terms are FOOM, MMMS and Spider-Man.
If you don't know what FOOM and MMMS stand for, Wikipedia is your friend. So whatever you're selling, try to figure out what obscure keywords are going to make your item show up in more searches, and make fans' ears prick up.
Make sure you use the correct category. A lot of sellers don't list their items in the best category, and that means they don't get as much for their items as they deserve, eBay seller Tellshiar says in his/her eBay profile from 2004. "When selling, I research the best possible category to list in or use a "second category" listing option. "
Pay attention to the search terms that people are actually using. And make sure those terms appear in your headline. For example, these are the top 10 search terms for "action figures" on eBay right now:
1. star wars
2. transformers
3. cream cloth
4. custom
5. gi joe
6. lot
7. marvel legends
8. batman
9. iron man
10. dc universe
So if you have a set of action figures, then make sure you describe it as a "lot" of figures, not just a set or a group. If it's a custom figure, make damn sure you mention that too.
Provide lots of details in the listing. Take really clear photos of the item and make sure your description includes all the relevant details, says MacLeod. Adds Lynch, "As long as there is a good pic(s), and I answer any/all questions that potential buyers might ask, that is all that is needed. This merchandise pretty much sells itself. Of course condition is the main factor in obtaining those high values." And for toys, make sure you use terms like "NIB" (New In Box) or "GU" (Gently Used) correctly. If the item has a flaw, make sure to get a good photograph of it, so the buyer will be more likely to trust you.
Set a low starting price. A lot of top sellers mention this as a key factor in an successful eBay item, for a few reasons. First of all, people like to start low and bid up to the "real" price they're willing to pay, rather than just bidding their top price right off. But also, a lowball starting bid helps you get the all-important first bidder on your item — and people are way more likely to start bidding on an item once they see it already has at least one bid. Also, consider not setting a reserve price, because people want to know that they'll actually get the item for sure if they win the auction.
Try to find some similar recent auctions. This helps you figure out what your item might be worth, says MacLeod. "Browse recent completed sales, find the items that achieved best prices, check what category they were in and compare 'good' and 'poor' listings." Some expert sellers advise watching similar auctions in your category for a whole week before listing an item, to see what a reasonable price is and what items people bid on the most.
Be a part of the community. Go to conventions, either as a seller or just as a fan. Take part in the discussion boards and online communities for the fandoms you're selling to, and let people know you're a fan as well as a seller, advises Mike Shah, with Mike's Comics-N-Stuff. Shah actually buys advertising on some of the action figure discussion/review boards, because that's where the most avid buyers hang out. He also buys some Google ads.
Get some fansites to link to your auction. For example, Transformers fan site TFW2005 has a regular "Featured Ebay Auction" item, where they link to a particularly cool auction of Transformers merchandise. Here's a link to one of their recent featured auctions, a complete set of G1 Encore Reissues MISB. Being part of the community can help you to connect with the fansites that can drive a lot more people to your auctions.
Use social media to get your item in front of more people. Not surprisingly, eBay has started a huge push to get people to list their auctions on Digg and Facebook, with a "Share" menu, and the auction site has also hired a Senior Director of Marketing and Global Social Media. If your friends are all fans of the same stuff you like, then they may be genuinely enthusiastic about giving a thumbs-up to your unique or cool action figures or autographed items. This strategy seems like it would work better for items that have a special "cool factor," though, rather than just the same generic toys that everybody else is selling.
Look beyond eBay for online selling. If you're selling media items like books, DVDs or games, Amazon is a lot more happening than eBay these days. Half.com is also an option, but Amazon is definitely where a lot of the action is as far as selling media items nowadays, and you can get paid in Amazon credit if you want to put it towards other stuff you want. Here's an article that lists a bunch of other great eBay alternatives, including eBid, Overstock.com, Bonanzle.com... and good old Craigslist.
And consider going with a middleman. Got a ton of comics to sell, but not sure how to figure out the difference between VG and EX grading? Not interested in photographing each comic book individually and posting a detailed description of it online? You can always go with someone like Lone Star Comics, who will buy a bunch of your comics in bulk, as long as you can ship them to Texas. Our own Mary Ratliff has made hundreds of dollars selling her comics to Lone Star, with a lot less hassle than selling them one at a time via eBay. And these guys will sell your posters on consignment. You could also go with an eBay Trading Assistant (like the "I Sell Your Stuff on eBay" woman in The 40 Year Old Virgin.)
Try to think like an advertiser. Heikes says he comes from an advertising background, and uses that experience to try and present listings in a way that will jump out at people. For example, his listing for the official Star Wars Boba Fett helmet contains this bracing paragraph:
The nefarious bounty hunger from the original STAR WARS trilogy, BOBA FETT, lives again in this fantastic collectable replica. The BOBA FETT helmet is adult size, cast in high quality plastic, and features a dark tinted visor and moveable side eyepiece. Each helmet is hand finished with highly detailed weathering for the finest reproduction possible. Capture BOBA FETT today!
And then it's followed by a lengthy, very detailed list of "product information."
Buying
If you're serious about being a dealer and making some real money, eventually you'll think about buying as well as selling. Obviously, this can be an expensive proposition, unless you know what you're doing. The good news is, in a down economy, you can get a lot more used stuff more cheaply in good condition.
Only buy stuff you like and know about. Shah sells via his own site as well as eBay. His is a pretty small operation, and he stays focused on just the lines of business that he knows really well, such as Doctor Who, Star Trek, DC/Marvel and Star Wars. Especially in a down economy, it's really important to "focus on a few particular lines and do those well, rather than the shotgun approach and trying to cover everything."
Try not to get the same stuff that everybody else has. This sounds really basic, but it's especially important if you're buying and selling new items. Check out what the other top sellers (and your local store) are pushing right now, and if you have those items, put them in storage, advises Ray Heikes, who sells on eBay as Mr. Halloween Man. "One of my main tactics is to find science fiction/horror/fantasy collectibles that are not stocked by the 'usual suspects', and to avoid those things that they do sell commonly."
Adds another eBay seller, Jackie MacLeod, "If there are plenty of items the same as mine I will sometimes hold back until there are fewer, or undercut the other starting prices."
Cut back on how much stuff you buy. Even if you think you might be able to sell two whole cases of talking Dalek mugs (an item that MacLeod did well with lately) you should probably be more conservative in this terrible economy, and only get one case, says Shah.
Find a unique niche, or a new spin on some unusual items. Heikes, who also works with a major Halloween retailer, has created a pretty unusual model: He gets items that are sold as costume accessories to the Halloween industry, and sells them as toys. For example, there's a Harry Potter wand with lights and sound, which is sold to go along with the company's Harry Potter costumes, "but it sure looks like a collectible toy to me," says Heikes. Similarly, Wizard of Oz costume accessories include a stuffed Toto in a wicker basket, which is supposed to go with a Dorothy costume but could just as easily be sold as an Oz collectible. "The upshot is that we market the halloween merchandise as "character collectibles", which is an angle that has worked well for us so far," says Heikes.
Another example is electrogamecollector, who has made out like gangbusters collecting Star Wars lego sets. Tons of people will buy extras of Star Wars Kenner figures and put them aside in mint condition, but a lot fewer will collect the Lego figures in mint condition because they
Not getting ripped off
And then finally, there's the little matter of not getting scammed by people who are buying your hard-won collection.
Get proof of delivery. "For large dollar orders we usually would use FedEx and request signature on the package," says Shah.
Watch out for common eBay scams. The "Scam Watch" page at eBay lists some great ones. In particular, there's the "Bid Shielding" scam, where people put up a bunch of fake high bids to scare off other bidders, then retract those bids just before the auction ends, leaving a lower bid the winner. Some buyers will also buy an item they already have, and then "return" their crappier version of the same item.
Additional reporting by Kelly Faircloth and Mary Ratliff.