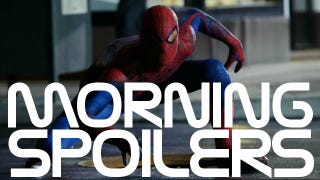 Morning Spoilers
If there's news about upcoming movies and television you're not supposed to know, you'll find it in here.
Joss Whedon explains the reasons for a particular character turning up in The Avengers. Alice Eve drops a hint about her role in the Star Trek sequel. Check out a revealing Doctor Who set video. Plus Judi Dench discusses her latest James Bond appearance!
It's spoilers from here on out!
Top image from The Amazing Spider-Man.
The Avengers
While writer-director Joss Whedon has said a big priority in making the movie was to cut off the Avengers from their various support systems — the cast of their solo films, in other words — the one big exception is Gwyneth Paltrow, who is back as Tony Stark's love interest Pepper Potts. Whedon explains why Robert Downey, Jr. insisted on her making an appearance:
"You need to separate the characters from their support systems in order to create the isolation you need for a team. But Pepper, this was really Robert's thing. He pushed hard... He really thought Gwyneth would bring something great to the table, and we all thought so as well, but he was the one who convinced her to come and do it. He didn't want to be sort of, crazy alone guy, he wanted to be crazy in-a-relationship guy."
---
The Dark Knight Rises
I think we've all had pretty much the same reaction to all the casting and story updates for Christopher Nolan's final Batman movie, specifically, "Yes, yes, that's all fine, but where the hell does Adam West fit into all this?" Well, Adam West himself addressed the rumors of a possible cameo, and it sounds like any cameos he will be making will take place solely in Adam West's head, which is really the quintessential Adam West move anyway:
[Laughing] I'd love to play Batman, and come in one night, flying in through the library window on the wings of a bat, or something. Right when Batman is totally overwhelmed with terrible things happening in Gotham City, and give him some advice. Either as a real character or fantasy character – whatever!
That sounds like it would be the most inexplicable moment in cinema history. I must see it! [IGN]
---
The Amazing Spider-Man
Director Marc Webb discusses more of just how the comics influenced his new Spider-Man movie:
There's an adolescent quality to a lot of the "Spider-Man" [comics] that I liked, that is really important in terms of the DNA of the character. He's like an imperfect guy. You know what I'm mean? He is a kid, and he's always kind of making mistakes, and he is not so sure about himself all the time. I felt like the authentic place to start that was in high school. And I think there's something about the way you feel about the world at that age that makes things much more raw, and I thought that was really fun to explore more cinematically.

What's the trickiest element of Spider-Man's world from the comics to capture on screen?
To create something that's funny and whimsical, but also has real emotional stakes. That's the real tricky part is to make it all feel grounded even though he is doing something, even though he's swinging through the streets and he can do things that no other human can do. But still give him a hard time when he's relating to his aunt or his girlfriend, and all those dumb little things that we all have to deal with when you don't have that mask on. I think reconciling those two universes was tricky, but I think that people really react to it.
He also talks more about how this film plays up Peter's status as an orphan to differentiate it from the Sam Raimi movies:
I felt it was important to start to define the parts of Peter Parker that were new and different. I mean, I think Peter Parker emerges from this orphan environment. He's abandoned by his parents at a very young age and that has an emotional consequence that tracks for the rest of his life. I felt like that was an important thing to hit on, and that emerges — it manifests itself, I think, in a surly, sometimes punk-rock attitude, and that quippy, really trickster-y behavior the Spider-Man takes on. Once he puts on that mask, he can act out that wish, that fantasy, and that's something that was important to do. I just wanted the movie to function on its own, in its own right. You don't have to have seen those other movies. It's very different. We just wanted to create a universe that functions on its own. It doesn't have too much to do with the other one.
And he discusses how Andrew Garfield prepared to capture Peter Parker physically:
Well, Andrew went to Queens to sort of study how kids behave, act, dress, and he was very specific about the choices he made in terms of costumes and stuff. It was about trying to find how a kid acts these days given the background that he has. Meaning, he was abandoned as a child — and irrespective of the parents' motives, or the conditions that surrounded that — you can't help but feel a little bummed out by that. And cheated, and a little distrustful of the world. There is an attitude, but again that manifests itself [by Peter being] an outsider by choice. He has a skateboard. He can be a little bit surly, but there's a goodness to him that is sometimes misguided and sometimes not, but there's an attitude. But I think it's really specific to this Peter Parker that you haven't seen before.
There's still plenty more at the link. [Yahoo! Movies]
---
Star Trek 2
Very little is known about She's Out of My League actress Alice Eve's role in the film, other than it's a character that's new to the Star Trek universe. She did, however, recently drop this hint:
"I'm a healthy amount of time in the makeup chair — though not as long as Spock. We were filming until very late last night, and I know that's all I can say. It's a top-secret operation; it's like a war."
The makeup line suggests she's probably playing an alien of some sort, though she can't be that alien if her makeup doesn't even take as long as a Vulcan. [MTV Movies Blog]
---
Catching Fire
Two new names have surfaced as potential directors for the Hunger Games sequel, and they are both quite a bit more low-key — and thus probably quite a bit more likely — than previously named candidates David Cronenberg, Alfonso Cuaron, and Alejandro Gonzalez Inarritu. The first is Bennett Miller, who has some pretty impressive experience with taking over a troubled high-profile project after the departure of the original director, as he took over for Steven Soderbergh on Moneyball and produced a pretty damn good movie (not to mention a Best Picture nominee, if you care about that sort of thing). The other new candidate is Constantine and I Am Legend director Francis Lawrence, whose filmography doesn't really measure up to that of the others but at least has shown some skill with action sequences. [The Playlist]
---
Snow White and the Huntsman
Here's a new international poster. [Coming Soon]
And now, here's Kristen Stewart standing next to a woodland creature, which is just the sort of gritty shit you can expect Snow White to get up to in this movie. [Snow White and the Huntsman on Facebook]
---
I, Frankenstein
Here's a first look at The Dark Knight star Aaron Eckhart in makeup for his post-apocalyptic, demon-fighting Frankenstein movie, which has just begun filming in Australia. [Cinema Blend]
---
Bill & Ted 3
This sequel is still in development, but not entirely greenlit yet. In any case, while the question of just how a third Bill & Ted movie will work without George Carlin remains unanswered, we now know at least one supporting player will return for the new film. William Sadler has revealed he will likely reprise his Bogus Journey role as the Grim Reaper:
"I'm not sure if it's a done deal yet. I know they're trying to write The Grim Reaper in. (Writer-star) Alex (Winter) said, 'How could we do this without the Reaper?' I'm hopeful. I'd love to go back and play with those guys again. That was one of the most fun roles I've done. I'll be there in a heartbeat, if they want to do it."
[MovieWeb]
---
Skyfall
Judi Dench discusses her expanded role as M in this, her seventh James Bond movie:
There's more lines to learn, many more lines to learn, more days filming, more work with Daniel and work with Javier and with Rory Kinnear, and that's very nice because he was my husband's Godson, so we've known him since he was a really tiny boy. It's very nice that we have a relationship where he is working anyway with M, we work together, so we have that relationship. It's built-in because we know each other so well.

Do you discover any new things about M that you didn't know before with more backstory that's going to come out in this film?
Yes. (Laughter) A few.

We've heard that M might get into some kind of trouble, so can you tell us what kind of trouble?
No, I can't tell you which kind of trouble. She gets into trouble.

I feel like in the other movies you haven't had much interaction with the villains, so that's one thing that seems very different in that you might be interacting more with the villain.
It's more exciting to me. Much more, especially when you get Javier Bardem. Yes, it's very exciting, but there's just more story to tell.
There's more at the link. [Coming Soon]
---
Cloverfield 2
Original movie writer Drew Goddard, who just won some major critical acclaim with his directorial debut Cabin in the Woods, reiterates his previous stance that a Cloverfield sequel is possible, but there needs to be a good reason for it:
We didn't set out to make a franchise, we set out to make a good movie. But I love that world and that universe, so if there was an idea that excited us enough, and we felt like there was a reason to do it, we would do it. The nice thing about when you work with a guy like J.J., and the power he gets, the studio's not going to force him to do anything. And he has been able to say, we'll do it when we're ready. We're not going to just do it because it will help your bottom line, we're going to do it because there's an idea that excites us. And so that's informed our discussions. We don't feel like we have to, so it's like, Can we come up with something that excites us enough to do it?
[Collider]
---
Carrie
The great Julianne Moore, whose credits include sparring with Alec Baldwin on 30 Rock, is reportedly in talks to play Margaret White, the domineering fundamentalist mother in Boys Don't Cry director Kimberly Peirce's new adaptation of the Stephen King story. Chloe Moretz — whose credits also include sparring with Alec Baldwin on 30 Rock, which I'm going to quite unreasonably assume is this movie's unofficial theme — is set to play Carrie. [Bloody Disgusting]
---
Doctor Who
Here's a set video from the ongoing filming in New York City, in which the Doctor reads a letter that seems to make him really properly cry. Since this episode features the return of the Weeping Angels — not to mention rumors of an aged Rory — one might imagine a letter recounting a time-displaced person's life like those we saw in the Angels' debut appearance in "Blink." That's just speculation, of course. [Life, Doctor Who, and Combom]

---
Fringe
Here's the last cryptic teaser for this week's episode, the experimental entry "Letters of Transit." [Fringe Television]

---
Person of Interest
The show will rectify its heretofore dangerously low levels of Amy Acker by doing the only sane thing and casting Amy Acker in the first season finale. The genre stalwart will play the finale's person of interest, described as "an attractive psychologist who caters to the rich and powerful...[who] Reese (Jim Caviezel) must keep her safe from several clients who could potentially kill to keep their secrets safe." [TV Guide]
---
Once Upon a Time
Here's a promo for the next episode, "The Return."

---
Grimm
Here's a promo photo of a sure to be awkward dinner party from the April 27 episode "Leave it to Beavers." [TV Line]
Bree Turner, who has recurred this season as the Fuchsbau spice shop owner Rosalee, has reportedly been promoted to a series regular for season two. [TV Line]
---
Touch
Here's a sneak peek at this week's episode, "Lost & Found."

---
Supernatural
Here's a promo for the next episode, "Of Grave Importance."

Eureka
Here's a promo for next week's episode, "The Real Thing."

Just in case you were wondering, star Colin Ferguson confirmed that the fourteen episodes of the just commenced fifth and final season will all run consecutively, with none of the months-long breaks we saw with seasons three and four. [@colinferg]
---
The Vampire Diaries


Costar Joseph Morgan says the death of his character Klaus is a very real possibility, and he even suggests how they might get around the fact that killing him off would mean the death of his entire bloodline:
"My character definitely isn't confirmed for Season 4,. There's very much a threat he won't make it to Season 4 or even if he does make it to season 4 that it won't be in the way you think. That's a very real threat — I'm genuinely worried by it. I imagine they do something like ... eternity in a box where they keep him alive, but he's no threat to anyone."
[TV Guide]
Here's a cast photo of star Nina Dobrev. [SpoilerTV]
---
Ultimate Spider-Man
Here's a promo for this Saturday's episode, in which Spider-Man teams up with Iron Man to take down the Living Laser, whose superpower you can probably more or less guess. There's more info on the episode at the link. [TV Guide]

---
Lost Girl
Here's a press release for the third season of the Canadian supernatural show, which just began filming:
Slated to premiere on Showcase this fall, season three promises more twists and turns for TV's favourite succubus, "Bo" (Anna Silk: Being Erica, Billable Hours). This season sees Bo make a romantic choice, but finds the road to commitment riddled with obstacles. Throughout the season, unexpected jeopardy stalks Bo and those she cares about. Though Bo battles many foes, her greatest enemy will prove to be the one that resides within her.

Returning for season three is Kris Holden-Ried (Ben Hur, The Tudors, Underworld 4) as "Dyson"; Ksenia Solo (Life Unexpected; Black Swan) as "Kenzi"; Zoie Palmer (The Guard, Instant Star, XIII) as "Lauren"; Rick Howland (Billable Hours, Murdoch Mysteries) as "Trick" and K.C. Collins (Owning Mahowny, Doomstown) as "Hale". Joining the Lost Girl cast this season is (Rachel Skarsten: The Vow; Flashpoint; Birds of Prey) in a recurring role as "Tamsin", a thrill-seeking, sexy new Fae who ruffles many feathers. Emmanuelle Vaugier (Two and a Half Men, Covert Affairs, Human Target) will reprise her role as "The Morrigan", the leader of the Dark Fae. "We're really looking forward to delivering another electrifying season," said Jay Firestone, Executive Producer. "Viewers will see a side of Bo that they haven't seen before."
You can read the rest at the link. [Are You Screening]
---
Additional reporting by Jennifer Griffith-Delgado and Charlie Jane Anders.