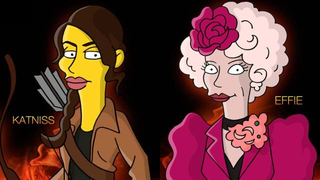 Given how long it takes The Simpsons to get round to sci-fi parodies, Bart and Lisa will probably be taking part in Springfield's version of the Hunger Games sometime around 2016. Until then, check out these cool Simpsons-y takes on The Hunger Games characters.
NextMovie has created eleven posters showcasing the Hunger Games stars as Simpsons characters, some more of which you can see below. As something of a connoisseur of Simpsons-ized sci-fi characters - or at least as a person who once broke the Gawker servers cramming over 100 of these into one post - I'd say these will do quite nicely, though for my money they could have gone even further with that glorious Simpsons overbite.
Check out the link for more.