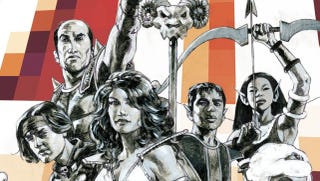 With Felicia Day dropping by Emerald City Comicon this weekend, Dark Horse Comics has given us a first look at the cover art for the upcoming one-shot The Guild: Bladezz, starring the Knights of Good's rapscalliony rogue, the model Finn Smulders. Here's the solicitation:
The Guild: Bladezz One-shot
Writers: Felicia Day and Sean Becker
Artist: Andrew Currie
Cover artists: Karl Kerschl, Farel Dalrymple (Variant) and Sean Phillips (25th Anniversary cover)
Price : $3.50
On sale: June 22, 2011

Guild creator and star Felicia Day is joined by series director Sean Becker for a new one-shot starring the Knights of Good's brash young rogue, Bladezz! In this issue, it's the secret origin of Bladezz's alter ego, the supernaturally gifted model Finn Smulders! When all he wants is a place to play the Game, and faced with a controlling mother, know-it-all sister, and obnoxious potential stepfather, can Bladezz use Smulders's "powers" to save the day? Can he keep his new identity secret? And can any good possibly come of fatherly advice from Vork?