Seth Rogen and Evan Goldberg, the writing team behind Superbad, Pineapple Express, and the upcoming Green Hornet, talked to io9 in San Diego about their creative process. Rogen talked comics whereas Goldberg gave a shout-out to an unlikely romcom.
NOTE: The above photo is of Rogen as Britt Reid/The Green Hornet and Jay Chou as Kato.
How did you and Evan get Michel Gondry on this project?
Seth Rogen: Evan and I were kind of put in charge of finding a director for the movie, and we met with a ton of different directors. Eventually when we met with Michel — he really just liked all the same things we liked. You definitely have preconceived motions of a guy like him, and when he comes in and starts talking about movies like Ghostbusters and Back to the Future, then you instantly realize there's a much mainstream sensibility to this. I honestly thought he wouldn't have wanted to make a big, commercial movie, and he did! That was honestly the most surprising thing about him, that he had this desire to make a big film that's creatively adventurous but also worth its money.
How about Christoph Waltz? You really scored a coup in getting him just as he was blowing up in Inglorious Basterds.
Evan Goldberg: We started with Nicolas Cage, but that didn't pan out and we were in a bit of a jam. So we had to figure out someone within 24 hours, we all went and saw Inglorious Basterds (someone suggested it), and that guy rocked in that movie. I'm still amazed that we got him for the film.
G/O Media may get a commission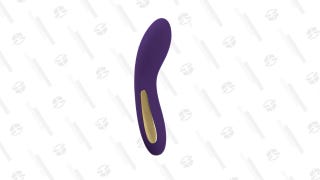 Aurora by Bellesa
Do you have a sense about what the fan response to Green Hornet has been at Comic-Con?
SR: People have been pretty critical of us to begin with, and I'm a very critical person when it comes to my own material. But I think people are more receptive the more they see. I think they see we're not making fun of these films and that Gondry is putting in a lot of his cool visual shit.
The Green Hornet is one of the godfathers of pulp heroes. Were you a fan of the pulp genre coming into this project?
SR: Well, I've always been a huge comic book fan, I go to the comic book store every week.
Oh, what are you reading these days?
SR: I mostly follow the writers like Garth Ennis (he's one of my favorites), Mark Millar. I read Wolverine comics a lot, Daniel Way has been writing good Wolverine comics lately. I was into Siege. Ed Brubaker, I'm a fan of. The Sword was good, I like the Luna Brothers.
Is there an original superhero you'd like to bring to the screen?
SR: I think in a lot of ways we have created an original superhero in The Green Hornet — I mean besides the name, the gun, the car, and Kato – we really created this character's world. We've been working on it a long time, and I think otherwise we put in a lot of ideas we would have otherwise put into another superhero film.
EG: I'll never remake another movie — I don't want to be that guy who remakes movies. But The Green Hornet is so long gone that if it doesn't get remade now, it won't get remade at all. People are remaking films that were made a year before. 80% of our ideas involve the end of the world and intergalactic space-demon-alien weird-ass shit. It's very difficult for us to keep it grounded. People want our dialogue, and we're like, "Would you rather have a a 40,000 foot space monster fighting a galactic army?" And they're like, "Not from you guys."
Can you give us one such space demony idea?
EG: We have never been dumb enough to present our ideas to the studio. The exception was Jay and Seth Versus The Apocalypse, which we're making. It's not scifi, it's more of a horror movie. We're not horror movie fans, but we linking up with other people who make horror comedies. And we got that by making a trailer for the internet.
Like Pineapple Express and Superbad, Green Hornet is very much a buddy movie. What is the appeal of buddy movies for you and Seth?
EG: For Jay and Seth Vs. The Apocalypse, we discussed doing things another way — we have plenty of scripts that have never been made that are not buddy movies — but it's like if Quentin Tarantino made It's Complicated 2. It would be like, "What the fuck are you doing? Make the fucking movie I want you to make!" So that's what we're we doing, making the movies they want us to make.
Hey, we would watch Quentin Tarantino's It's Complicated 2.
EG: Hey, I liked It's Complicated. I get some shit. Fuck everybody. I enjoyed that movie. I stand by It's Complicated. It was pleasant.
You do realize that's going to be the new tagline on the DVD. "It was pleasant!" — Evan Goldberg.