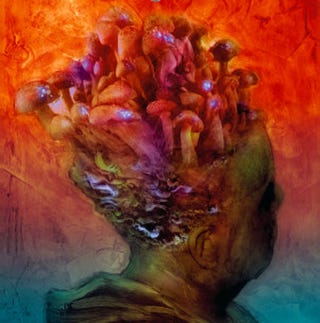 John Coulthart has just posted his cover design for the re-release of Jeff VanderMeer's novel, Shriek: An Afterword. This is the cover image, by Ben Templesmith — it shows a mysterious "gray cap," one of an oppressed underground people who have this bizarre mushroom tech that will allow them to take over a city. You can see the full glory of Coulthart's book cover below.
I love this design, with its webby typewriter look and abstract expressionist mutant.
Here's a quick summary of VanderMeer's surreal tale:
Shriek: An Afterword relates the scandalous, heartbreaking, and horrifying secret history of two squabbling siblings and their confidantes, protectors, and enemies. Narrated with flamboyant intensity and under increasingly urgent conditions by ex-society figure Janice Shriek, this afterword presents a vivid gallery of characters and events, emphasizing the adventures of Janice's brother Duncan, a historian obsessed with a doomed love affair and a secret that may kill or transform him; a war between rival publishing houses that will change Ambergris forever; and the gray caps, a marginalized people armed with advanced fungal technologies who have been waiting underground for their chance to mold the future of the city.
You can buy the book here.
Fungal observations [Feuilleton]