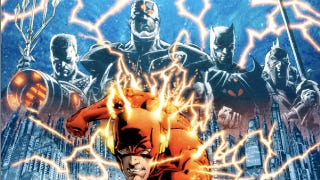 DC Comics kicks off their big summer event, Hellboy gets a celebrity guest illustrator, and the lost anti-Communist Captain America of the 1950s returns. Just your standard week in funny books, dear readers.
First Issues
The inaugural issue of Flashpoint hits the stands Wednesday. A DC Comics event on par with Blackest Night, Flashpoint sees The Flash wake up in an alternate reality where Cyborg is the top hero, Abin Sur is the Earth's Green Lantern, and everyone else is somewhat screwball. I'm a sucker for reality-hopping weirdness, so I'm in.
I'm also interested in the the Hellboy: Being Human One Shot, which includes more artwork from legendary Heavy Metal artist Richard Corben and explores an early tale of Roger the Homunculus.
Other first issues this week include Paul Dini's Batman: Arkham City miniseries, which tells the backstory of the upcoming video game of the same name. Sam Kieth of The Maxx illustrates the vampire sequel 30 Days Of Night: Night Again. Chuck Dixon reboots G.I. Joe for the "Cobra Civil War" story arc.
Lot of stuff in the 1990s throwback department. Jim Starlin resurrects his Malibu Comics science fiction series Breed for the miniseries Breed III, and Beau Smith publishes a miniseries starring his heroine Wynonna Earp in Wynonna Earp: Yeti Wars. Archie Comics and Dynamite publish new Mega Man and Total Recall series, respectively.
Other Releases
Some new issues that may catch your eye include Batman Incorporated (guest-starring the Sioux Batman, Man-of-Bats), The Unwritten, FF, Northlanders, Chew (which jumps ahead nine issues to issue #27 to give readers a glimpse of the future), and a new arc from Jason Aaron on Punisher Max.
Graphic Novels
The first volume of Gail Simone's revamped Birds of Prey is out on hardcover — ditto goes for the "Bullseye" arc of Punisher Max. A wacky trade paperback out this week is a reprint collection of Joe Simon and Jack Kirby's Fighting American, a.k.a. the Cold War's answer to Captain America who fought mutated Commies with his partner Speedboy. It's sure to be filled with plenty of trademark Kirby villain grimaces.
As usual, here's the list of everything being released to comic stores tomorrow, and you can find your nearest comic retailer here. Happy reading, gang!