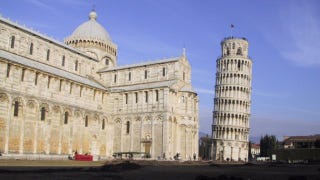 The Leaning Tower of Pisa is good for at least two things: letting tourists have fun with forced perspective, and revealing a basic truth about how we understand balance. Tilting your head really can change your entire whole perspective.
Pisa's famous bell tower is tilted a good twelve feet from where its top should be, making it both one of the most iconic buildings in the world and one of the most epic screw-ups in architectural history. Ever since the structure began sinking and tilting in 1178, centuries of engineers have tried to keep the tower from falling over, and so far they haven't done too bad a job.
But in terms of our own perception, a person who looks at that photo up top with their head tilted to the right is likely to feel way more confident about the tower's future than someone with their head tilted to the right. That's what Michael Barnett-Cowan of German's Max Planck Institute discovered when he showed 15 test subjects images of an object tilted to the right. He had the volunteers lie on either their right or left side and then judge whether the object was about to topple. Those on their left side were more likely to think that the object was about to topple, while those on the right thought the object would remain upright.
This isn't a completely academic finding, either, as New Scientist explains:
We perceive which way is down via the effect of gravity on the inner ear's vestibular system combined with visual information and a sense of the body's position. When we are upright, these senses are aligned, but when the head is tilted they clash. A better understanding of how these senses contribute to our perception of orientation could help astronauts train to overcome space sickness - which arises as the vestibular system adapts to low gravity - by paying more attention to visual information and the body's position, says Barnett-Cowan.
As for what will actually happen to the Leaning Tower...well, as of 2008, engineers have been able to stablilize the Tower so that, for the first time ever, it has stopped tilting further. In fact, the current consensus is that it should stay up without further restoration for at least another 200 or 300 years.
PLoS One via New Scientist.