Scott Eagle has demons. Many demons. They come to haunt him in all sorts of guises - sometimes as tornadoes, sometimes as bleeding trees. Nature is not benign. The best way to deal with them is to paint them.
I was first introduced to Scott Eagle's work many years ago when he sent me his portfolio while I was publishing The Silver Web. Needless to say, I was blown away by his artistic visions and started working with him. Since then, we've worked together on many projects and his art continues to amaze me. (He even did the artwork for our Ketubah - I am sure it is the most unusual and fantastical Ketubah ever).
Scott's work has appeared in many well-known publications such as The New York Times and The Oxford American. He teaches at East Carolina University in Greenville, NC and has had dozens of gallery showings around the world. Let's take a trip into his imagination.
For more about Scott, please visit his website at ScottEagle.com
I know I should not have gone swimming with those nasty gashes on my legs (and if you look close you will see the tornado - a recurring theme in a lot of Scott's work).
Not so innocent....At first glance it seems like such a peaceful scene with beautiful birds flying around. But then you look closer and there is all kinds of weirdness and creepiness. And that large flower almost looks like a tornado.
I am lucky enough to have the original hanging in my living room. It was used as the cover art for Jeff' short story collection Secret Life.
Is this what heaven looks like? For Scott, perhaps. More visuals of tornadoes and a strange creature that is holding the captured man.
This is the Tooth Fairy. She's working her way above ground, slowly but surely. But first, she needs to grab those eggs. The eggs need protection, the kind of protection only she can give. Surely.
Spaceman (or deep sea diver?). In strange surroundings (for a change). A falling man - a recurring theme in much of Scott's work. Makes you wonder. If you hit bottom when falling in a dream, do you really die? Of course it is hard to tell if he's falling or if he was pushed. Either way, I don't think the spaceman can help him.
Madonna & Fish - Scott has an entire series of paintings that play with the idea of the Madonna holding a fish. In this one we're dealing with a lot more than the fish. We also see what could be the Tree of Life at the top of the hill. And if you look very close, you can see someone riding on horseback.
The title of this piece is Pollen. A person's head is surrounded by the vines of a plant - another not-so-friendly flower. But this one has a person inside of it. So instead of the plant growing out of the body, a human is nurtured. Or....could it be a falling man? And I just can't take my eyes off the mouth. What IS that?
Another falling dream...We see two of Scott's signature tropes; a falling person and a tornado. There is also a connection between the boy and the world he lives in as his leg comes out of the water. One of the tornadoes sems to be alive and looking down at the boy and the destruction it has caused. The house could be bleeding.
Scott calls this piece Iceberg. I call it The Horned Man. I haven't yet decided whether or not he is evil. But he certainly has some wacky eyes on him.
It is possible that there is an entire world inside him. Almost like a new galaxy in one of his horns. Star-like....And behind him a planet on fire. Or maybe it's just sunspots or aurora borealis. Anyway, I have always thought this guy was kinda cool.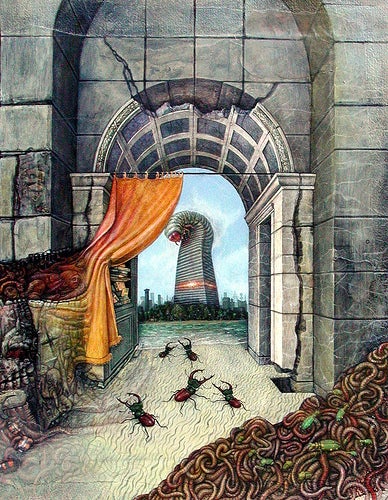 The Situation. When my husband wrote the novella The Situation in 2007 he sent it to Scott, who immediately had all kinds of images in his head and started drawing. Later it was published by PS Publishing as single volume with Scott's artwork as a wraparound cover.
This is the front cover of the book (the original piece is very large) and you can see the Company in the background.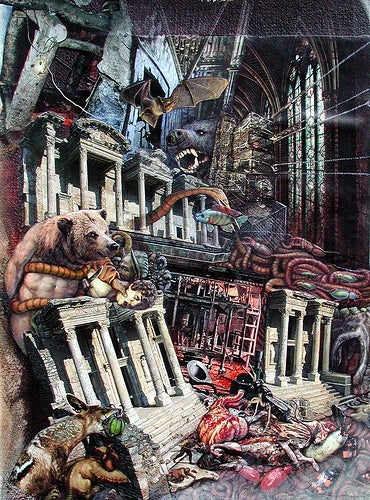 The Situation - Back cover. This story is about an office worker with a boss from hell. The world of the Company he works for is strange indeed and the employees there make weird bio-engineered items for school-children. In addition to the boss from hell, this cubicle warrior must also deal with back-stabbing co-workers, weird HR personnel and other nasty characters. Not sure if it is safer in the buidling or out.
Inspired by true events - 'nuff said.
Ok, this is is a bit more in-your-face. But even with such an obvious horrific image you can see all kinds of details in this piece. Scott likes to do things in layers and in this one you can see the textures. I love how he uses the fish image in so many ways - sinister and innocent.
Another piece I really love. It's titled Grrr, which makes me think it is some kind of creature that is growling. And again, more fish imagery. You can also see the detial of the frame. Scott makes many of the frames for his art and the frames are works of art as well.
This one is called The Silver Thread. Signature tornado and also a bird. However, this bird looks like it has scales or something. So is it a reptile or a bird?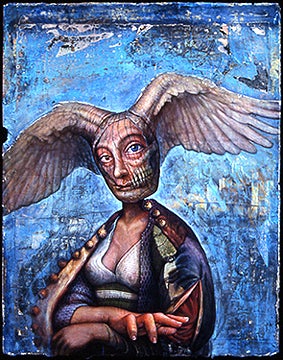 I adore this one. Scott calls it Muse 2. You can see how something like this could inspire you. But what exactly would it inspire? Again, the richness of the textures and the layers are evident here. He likes to play with this whole good/evil concept and he borrows much of his own inspiration from the flora and fauna around him.
Merry Christmas, Happy Holidays and a Happy New Year.