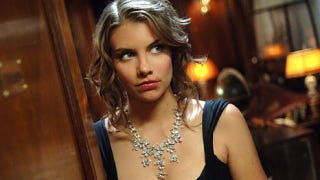 And the paranormal television just keeps on coming. CW's making a brand new pilot called Heavenly about an angel turned attorney who wants to save your soul, from jail and hell. But will you watch it?
According to Spoiler TV, The Vampire Diaries' Lauren Cohan will be playing the female lead in Heavenly: Lily DeMarco, the cute San Francisco lawyer (who uses her looks to her legal advantage — oof). Her partner in law, "Dashiell Coffee," is the angel turned human lawyer who's out to save the souls of their clients. Dashiell is being played by Ben Aldridge.
Also on board: Deputy District Attorney Sasha Nouri (with a "darkly pretty with a wicked smile"), played by Elizabeth Ho. And hottie man of the cloth Owen Moretti (Ryan Eggold from 90210) who "looks more like a construction worker than a pastor" (oof again). Moretti is something of a consultant to Coffee. Here's hoping this show is more "alien on Earth" and less of John Travolta's Michael.