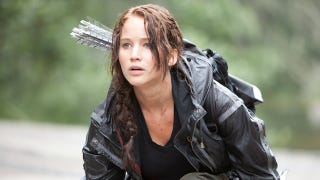 The CW, much like its primary audience of teenage girls, likes The Hunger Games. A lot. So much so, in fact, that even after they ordering a pilot based on the Hunger Games-esque young adult book The Selection, as well as talking about some kind of Battle Royale TV show, the network has decided to go ahead and put real teens on islands, without food or water, force them to compete, and film it.
Behold the description for The Hunt:
THE HUNT is an intense wilderness competition taking place over one month, as 12 teams of two are provided no food, water, or shelter, but must compete in a game where they'll rely on their physicality, survival skills, and hunting skills to endure their conditions, capture one another, and ultimately win a huge cash prize.
Note the description does not include any mention these teens giving into their hormonal nature in these extreme circumstances and 1) fucking each other, 2) killing each other, or 3) both. But we can hope!
[Via The Mary Sue]