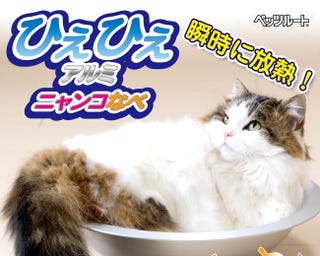 A severe heat wave has swept over Japan, with temperatures in parts of the country hitting a 90-year high. As people look for creative ways to keep cool, the most popular item is not for humans, but for their fur-covered companions.
As RocketNews24 reports:
While it may look like an everyday bowl, this is actually a whole lot more, with a special ergonomic design that's especially effective at supporting and cooling a cat's body.

The product, called the "Hie Hie Arumi Nyanko Nabe" (Cooling Aluminum Kitty-Cat Pot), retails for 5,392 yen ($52.54) and it's currently sold out on Amazon Japan. This item is one of a number of "hinyari" goods, (cooling goods), that fill store shelves in summer.

While hinyari goods are usually designed for people, to help them sleep and otherwise cope with the long summer days, it's great to see the concept taking shape in the pet world too.
[Source: RocketNews24]