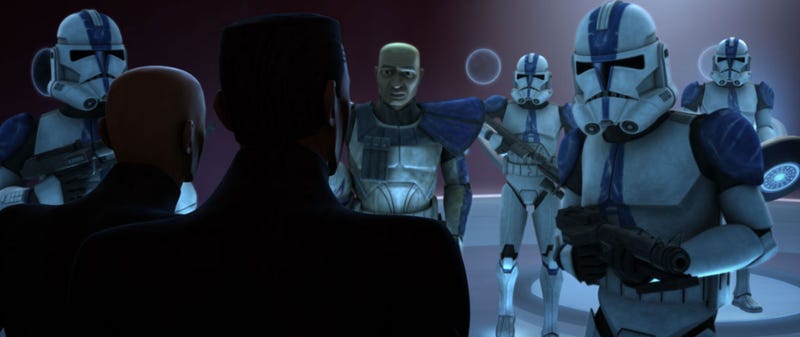 We've got some great clips this week! Jedi General Krell shows his true colors on Star Wars: The Clone Wars, Peter David pens late Halloween party on Young Justice, and Batman: The Brave and the Bold comes to an end with a comical finale starring Pee-wee Herman. Minor spoilers ahead!
Star Wars: The Clone Wars – "Carnage of Krell"

In this episode, the finale of the Umbaran clone arc, Krell orders the execution of Five and Jessie. The Clones make a stand for their rights as sentient beings by aiming incorrectly during the execution. We soon learn that Krell is a Separatist traitor, with the clone troopers confronting the Jedi in this spoilerific clip.
---
Generator Rex – "Crash and Burn"

On Generator Rex, kids are fighting each other with chainsaws and spiked sticks while riding motorcycles. As a child, The Smurfs were off limits because Gargamel looked a little too evil. Cartoons have come a long way. In this clip, you get to see some of this death race action, with the revelation that one of the bikers Rex is racing has a nanite connection.
---
Young Justice – "Secrets"

It is Halloween in Young Justice land! If they visit, you could give them the old orange flavored tootsie rolls that no one wants. Zatanna and Artemis sneak off for a night on the town in this episode written by comic book scribe Peter David. Their night is interrupted by the mysterious Harm, while the rest of the crew attends a Halloween party and meet a familiar looking Superboy. This clip shows off YJ's Halloween costumes - Wally West as Teen Wolf is perfect!
---
Ben 10: Ultimate Alien – "The Mother of All Vreedles"

The Vreedle Brothers return in this episode and they bring their mom along! The problem is, Ma Vreedle is looking to reproduce, and that could be a problem for the oceans of planet Earth. This clip introduces the good 'ol Vreedle posse.
---
Thundercats – "Into the Astral Plane"

Back to the Elephant Village! The Thundercats seek to retrieve the stone from the Astral Plane, but Mumm-Ra beat them to it. This clip from early in the episode is a bit of a flashback, as Cheetara seeks to prove her value to the clerics. If her training is any indicator, the clerics come in contact with sharp objects on a regular basis.
---
Marvel Anime: X-Men – "Transformation "

The war to free Armor continues, with Emma Frost developing her secondary mutation, a concept popularized in Grant Morrison's run on New X-Men. In this clip, Emma Frost shows off her new powers, turning into a block of diamond in order to protect Armor and the X-Men.
---
Batman: The Brave and the Bold – "Mitefall"

This is it – the last episode of Batman: The Brave and the Bold. Sixty-five episodes and goodbye per the normal Cartoon Network formula. In Mitefall, the show pokes fun at itself and the campy humor it brought to us all, with Batmite (voice by Paul Reubens!) devising a way to ruin the series forever in this clip.
---
Robot Chicken – "Some Like it Hitman"

Just in time for Twilight Saga: Breaking Dawn: Part 1, Robot Chicken mocks Harry Potter in this new episode! In this clip, Neville Longbottom gets his face eaten by a monkey, Ron Weasley learns that there is no room for error in Snape's potion making class, and students of Hogwarts are forced to go to an inner-city public school.
---
Robot Chicken airs Sunday nights on Cartoon Network and Marvel Anime: X-Men airs Friday nights on G4TV. Generator Rex, Star Wars: The Clone Wars, Young Justice, and Thundercats air Friday nights on the Cartoon Network. Batman: The Brave and the Bold only airs in our dreams now. Clips courtesy of Cartoon Network and G4TV.