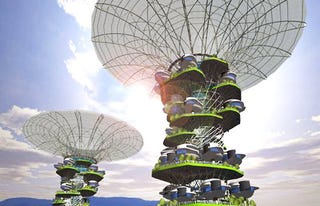 Cities whose power comes from the sun must grow into these organic shapes. Homes cling like fungus to tall, fat stalks, and solar panels stretch awkwardly open above each neighborhood.
These concept designs are by TROPICOOL @ KL, and emulate the several layers of a tropical forest, with the canopy flying high over the rest of the damp flora and fauna. The idea is that cities of the future might create mini-ecosystems based on ones found in nature.
According to Inhabitat:

The structure's circular tops are composed of miniature solar panels that provide a power source while mimicking the process of photosynthesis that takes place in rainforest canopies. Scattered throughout the branches of the mushroom tops are dwellings modeled after the Malaysian [style].
These energy-generating skyscraper neighborhoods look like high-density housing for a future world of high performance buildings that generate their own power - and their own food supplies too.