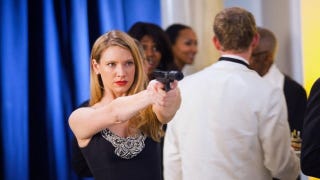 This week, Fringe goes glam. Also, is Chuck finally putting Timothy Dalton in his place? Find out tonight! Plus Mena Suvari is a supervillain on The Cape. Smallville and Supernatural are really back. And Titanic gets the sequel it deserves.
Today:
Scooby Doo: Mystery Inc. comes back from its hiatus at 7 PM on Cartoon Network, with "Mystery Solvers Club State Finals."
There's a new Chuck at 8 PM on NBC, and it looks like this one is the big deal everyone's been waiting for — with Casey still recuperating from his fall, Chuck decides to take on Volkoff by himself. And meanwhile, Sarah tries to extricate Chuck's mom from Volkoff's organization once and for all. Plus Chuck's niece may be arriving early.

Also at 8, there's a new Adventure Time with Finn and Jake on Cartoon Network. That's followed by a new Regular Show at 8:15.
The Cape is on NBC at 9 PM. The ARK Corporation is preparing to unveil a device that could transform Palm City forever — but this being The Cape, the young genius who invented the device decides to put on a costume and call herself "Dice." Yes, Dice. No, it's not an Andrew Dice Clay tribute — we think. Dice (Mena Suvari) wants to kill Chess in revenge for Chess' role in her father's death. So the Cape has to defend Chess from Dice, so the Cape's own bid for justice isn't thwarted. How can this not be excellent? There are some pretty great pics of Suvari (and the circus gang) here. And here are four sneak peeks:

Also on at 9 PM: Syfy's remake of the British show Being Human, with "Some Thing To Watch Over Me."
Aidan and Josh decide to invite the neighbors over to what appears to be a house-warming. Sally informs them that they have officially invited all of her least favorite neighbors to their house for a neighborhood watch party, but too bad she can't tell the neighbors to their face. Josh thought it was merely a get-together and enters his usual unnerved self when he hears it's a neighborhood watch party. Aidan tries to explain that if they want to be normal they have to get involved, and this is getting involved.
Here's a sneak peek:

Tuesday:
Syfy has a marathon of Star Trek: Enterprise all day long. Get some blue corn chips and watch some Andorians!
Also, here's a movie pick: The Quick and the Dead, airing at 5:30 PM on AMC, isn't actually science fiction — but the Western is a good object lesson in how to do a genre film with a female protagonist without ending up with Catwoman or Invasion.
Once again, there's no new No Ordinary Family.
But there's a new V at 9 PM on ABC. Three Peace Ambassadors are murdered — so expect lots of hand-wringing over how far is too far to go when fighting a covert alien invasion. And meanwhile, Erica and Father Jack try to enlist the Vatican's support in their fight against the aliens. That is going to go well. Here's a sneak peek. The Youtube user has more where this one came from.

Wednesday:
Three dueling marathons: the History Channel is showing MonsterQuest episodes all day long, while Syfy has a long bloc of the post-apocalyptic show Jericho. And then there's Encore, which is showing Bill Murray's Groundhog Day all day long, from midnight until after midnight Thursday morning. Yes, that's right. They're repeating Groundhog Day over and over, for 24 hours. It's pure genius. The fact that it's Encore doing it only makes this better.
There's a new Sym-Bionic Titan at 7 PM on the Cartoon Network — a new day and time for this show from Genndy Tartakovsky.
Nova ScienceNow is on most PBS stations at 8 PM, and they're asking the question, "How Does the Brain Work?"
And then at 9 PM, there's the plain vanilla Nova, in which host David Pogue looks at "green" materials that will build and power your devices in the future — including batteries grown from viruses, plastic made out of sugar, and solar cells that make hydrogen.

And if that's not enough science for you, the History Channel also has Bigfoot: The Definitive Guide at 9 PM.
At 11 PM, SOAPNet has another episode of Being Erica, "Moving On Up."
Thursday:
There's a new outing of The Vampire Diaries at 8 PM on The CW. Nobody's happy to see John Gilbert, except maybe the David Anders fan club. Meanwhile, Caroline talks Stefan into having a word with Tyler about that whole "we killed your uncle" thing. Bonnie has an unsettling conversation with Jonas. And Jules takes a hostage.

Or you could also watch a new Big Bang Theory, at 8 PM on CBS, "The Thespian Catalyst." Or a new Community at 8 PM on NBC, in which the gang plays Dungeons and Dragons.
Also at 8 PM, National Geographic has a new Naked Science.
And there's a new Nikita at 9 PM on The CW, in which Alex gets her first real assignment.
At 10 PM, there's another episode of superspy spoof Archer, on FX, "A Going Concern." Mallory loses all her money in a Ponzi scheme, so she has to sell ISIS to a rival spy agency run by Jeffrey Tambor. Awesome!
Also at 10 PM: the first season finale of Brad Meltzer's Decoded on the History Channel.
Friday:
At 7 PM, Cartoon Network has a new Young Justice, "Schooled":
Superboy's anger over his non-relationship with Superman is getting out of control. He refuses to train with Black Canary, and when The Team faces an opponent that even the Justice League had trouble defeating, the Boy of Steel goes rogue.
So remember how we told you there were new episodes of Smallville and Supernatural last Friday? We weren't just trying to yank your chain — we really thought those shows were back, until The CW had a sudden change of heart. Which means we can just cut and paste what we wrote about those shows last week, since we're getting the episodes we were supposed to see a few days ago. So here goes...
At 8 PM, there's an all-new Smallville, featuring the return of Chloe:
Clark (Tom Welling), Oliver (Justin Hartley), Lois (Erica Durance) and Dinah (guest star Alaina Huffman) are released by the VRA after being captured at Hawkman's funeral but each of them have flashbacks of Chloe (Allison Mack) holding them against their will. When Chloe returns, Dinah warns the others that Chloe may now be a traitor. Oliver dismisses her concerns but Clark is unsure if he can trust Chloe after she disappeared without an explanation.
Also at 8 PM, TMC has the cable TV premiere of 2009's Knowing, a film in which Nic Cage plays a college physics professor who — oh sorry, the suspension of disbelief already went out the window. Anyway, there's a time capsule from the 1950s and it has a piece of paper with numbers on it, and those numbers pertain to EVERY DISASTER IN THE WORLD for the past 50 years. Including one very, very large disaster that's coming soon. It's the film that wishes it could be 2012. That's followed by a film with the delightful title of Deep Shock, in which The Cape's Keith David faces off against a giant mutant eel.
At 8:30 PM, there's another new Star Wars: The Clone Wars on the Cartoon Network, "Altar of Mortis."
As the Jedi attempt to escape Mortis, Ahsoka is taken captive as a lure to seduce Anakin Skywalker to join the dark side. As Anakin battles against dark forces, the Father attempts to stop a confrontation between his children, which threatens to unbalance the Force completely.
And then at 9 PM, there's a new Fringe on Fox. The good news is, the second Fringe airing on Friday nights continued to have strong ratings, so the best science fiction show currently airing on television could actually have a brighter future than any of us dared hope. This week, a man dies after ingesting a mysterious blue powder — could it be a return to "mystery of the week" territory after two fairly arc-heavy episodes?

And then meanwhile, there's also a new Supernatural on The CW at 9. How is Sam going to cope with getting his soul back? We may have to wait to find out, until Dean takes care of a monster that's killing virgins:
Dean (Jensen Ackles) and Bobby (Jim Beaver) anxiously wait for Sam (Jared Padalecki) to wake up to see if Death (guest star Julian Richings) was able to restore his soul without causing Sam to lose his mind. Meanwhile, Dean and Bobby investigate a disappearance of virgins and discover dragons are behind the kidnappings. Bobby sends Dean to a doctor who owns the only weapon in the world that can slay a dragon, but Dean must prove himself worthy enough to take it.
At 10 PM, there's a new (to Americans) episode of Merlin on Syfy.
There's also a new Onion News Network on IFC at 10 PM, "Man-Horse Marriage."
Also at 10 PM: a new Spartacus: Gods of the Arena on Starz.
Saturday:
Did you think that it was impossible to make a sequel to James Cameron's Titanic? Sink again!
This Saturday, Syfy brings you Titanic 2. No, Leo and Kate aren't in it. But there's a new ship, that's once again unsinkable — until the worst case scenario becomes real. From The Asylum, creators of Terminators and Transmorphers, comes this proof that your heart really will go on. Probably. This film has been out on DVD for a while, but now it premieres on Syfy at 9 PM. And yes, someone really does say, "Looks like history's repeating itself."

Sunday:
Adult Swim is showing a new Robot Chicken at 11:45 PM: "Malcolm X: Fully Loaded." That's followed by a new Mongo Wrestling Alliance at midnight.
Sources: Seattle Times TV section, TV Squad, and Futon Critic