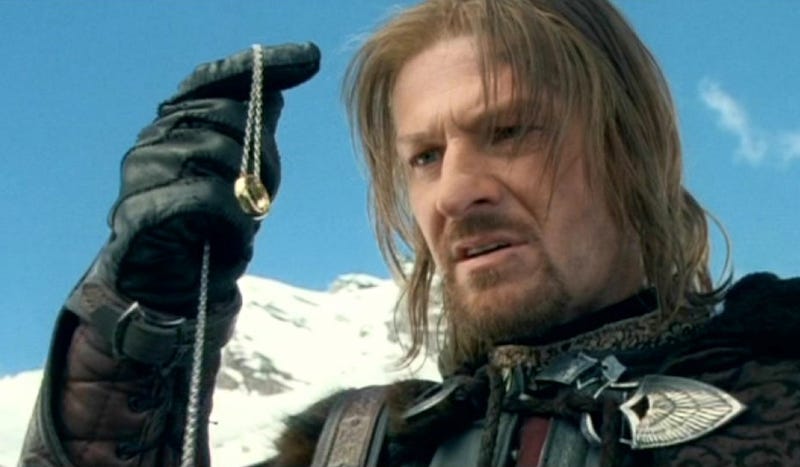 Sometimes a medical technique is so awesome that researchers are tempted to tell its story more than once. This seems to be the case with the dramatic rescue of a man's penis in India. The doctors involved just got in trouble for using it as a case study in multiple scientific journals.
Over at Retraction Watch, our intrepid reporters bring us news about this bizarre case. Apparently the Indian Journal of Surgery just pulled a paper about the penis rescue after they discovered it resembled another penis rescue case study in Bombay Hospital Journal. What is a penis rescue, you ask? It's what you do when a man has put rings around his penis to prevent "auto-ejaculation at night." Very tight, small rings.
Here's the first version of this case study, from Bombay Hospital Journal (click through only if you can deal with medical images of a penis in distress):
A 35 year old man presented to M.B. hospital, Udaipur with extremely swollen penis. On examination two metallic rings were seen at the base of penis.

On taking history it was revealed that he was advised by his friend to pass metallic ring over base of penis, to obviate penile erection and auto-ejaculation at night. He was practicing this method successfully since one year. On examination, gross oedema on distal part of penis was present and two metal rings were applied on base of penis (Fig.1) which could not be taken out. Patient was shifted to emergency O.T. in an effort to remove metallic rings. Lidocaine jelly was applied over penis, given multiple puncture, compression on penis was applied by hand and thin streams of fluid came out from multiple puncture sites but with all these we were unable to remove the rings and we did not get the suitable instrument to cut the rings safely. Finally an intravenous drip set tube was applied circumferentially, starting from tip of the penis to its base in order to have an even compression as a tourniquet (Fig. 2). The compression was maintained for 4 minutes and this procedure was repeated for five times. (In between the tourniquet application the penile compression was maintained by squeezing the penis with palm). This manoeuver reduced penile oedema dramatically and metallic rings could be retrieved manually over lubricated jelly. The whole procedure took around 50 minutes. The two rings were of 3.5 cm x 2.5 cm x 2 cm and 3 cm x 2 cm x 1.5 cm external diameter, internal diameter and width respectively (Fig. 3) . . .

There was no damage to penis at strangulation site as well as on distal part. Penis was cleaned with povidone-iodine solution, an antibiotic ointment was applied and dressed with vaseline gauge and light pressure bandage applied.

Patient remained cooperative during procedure. Before starting the procedure patient was pre-medicated with inj atropine 0.6 mg, midazolam 5 mg and tramadol HCl 100 mg intravenously with a patency iv drip and 2% lidocaine jelly was applied over penis. Antibiotics and Tetanus prophylaxis was also given. Psychoanalysis later revealed no abnormality. …

The method described above is highly effective, cost saving, complication free and can be done by every practitioner.
So glad that psychoanalysis revealed "no abnormality." The moral of this story is that rescuing a penis is a great thing, but not if you retell the same story to a different journal and pretend that it's original research.
Read more at Retraction Watch