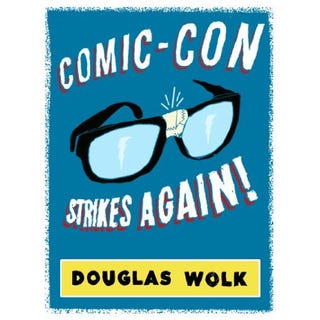 Amazon's Kindle Singles has just published a long, fascinating essay about the cultural meaning of Comic-Con by Douglas Wolk, author of the Eisner-winning book Reading Comics. If you're interested in a sympathetic but critical analysis of the Con that rules the world of genre writing, filmmaking, TV and art, this essay is a must-read. It's only $0.99 from Amazon, and 70% of proceeds go right to Wolk, so you're supporting a good writer with your purchase!
Here's the official synopsis from Amazon:
Douglas Wolk, a journalist and critic who writes on comic books, expresses it this way: "Comic-Con is a bacchanalian 100-hour orgy of fandom, and fandom is all about cathexis: investing one's energy and identity in a particular idea or person or thing." In this Kindle Single, Wolk explores both the culture of enthusiasts and the big business of extending a comic book into a novel, and then into a movie, and then into merchandise, and then into a massive branded franchise with an endless array of things for fans to buy.
Highly recommended!
Get "Comic-Con Strikes Again," by Douglas Wolk, via Kindle Singles