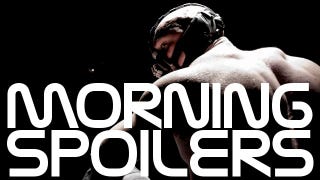 Morning Spoilers
If there's news about upcoming movies and television you're not supposed to know, you'll find it in here.
Zoe Saldana is ready to make Avatar 2. Alan Tudyk talks playing an adversary in Abraham Lincoln: Vampire Hunter. Could there be a new animated Star Trek show? Plus George R.R. Martin doles out cryptic Game of Thrones casting hints!
Spoilers from here on out!
Top image from The Dark Knight Rises.
The Avengers
Joss Whedon gushes about Clark Gregg as Agent Coulson, indicating he'll have plenty to do in this movie after a series of extended cameos in previous Marvel movies:
"I'm grateful everyday to be with those guys, especially Clark Gregg. That guy, man crush! But I'm keeping it under control. It's great, he's been weaving his way through every movie and I really get to play with him and have [him do] a lot of stuff. There were things that during the writing, I was like, 'I need something more here... Oh, Coulson!' and he just, he comes up every time. Clark is such a wonderful guy but also such a precise actor. The whole troupe is so amazing, I'm actually surprised."
Executive producer Patty Whitcher revealed what the movie has in store for Cleveland, which will be doubling as New York in the movie:
"We have to keep people back a bit for safety reasons — there will be explosions — but they will be able to see the actors and their favorite Avengers on the street during the filming. We understand this is an inconvenience for everyone and we appreciate it. The businesses that are on this street will remain open throughout the filming. There will be six days of mayhem on this street with lots of explosions and car flipping. We could not do that in New York."
The filming reportedly includes turning Cleveland's East Ninth Street into a stand-in for New York's Times Square. [Cleveland.com]
Filming is reportedly taking place at the big vacuum chamber at NASA's Plum Brook Station in Ohio. It's thought that Samuel L. Jackson is the only main cast member on hand for these scenes. [Sandusky Register]
Here are some set photos from the Cleveland locations. [Comic Book Movie and Moviehole]
Here's an additional list of filming dates:
- Filming on East Ninth Street from Euclid to Prospect avenues, Aug. 15 to Aug. 24.
- Filming on Euclid Avenue from East Sixth Street to East 12th Street, Aug. 22, through Sept. 2.
- Filming on Walnut Avenue from East Ninth Street to East 12th Street, Aug. 17 to Aug. 30.
- Filming on South Roadway at Superior Avenue and Ontario Street, Aug. 29.
- Filming on the Detroit-Superior (Veterans Memorial) Bridge at intermittent times in August.
- Public Square in front of Tower City will be closed for filming.
---
Man of Steel
An area man reports that the crew is in Millington, Illinois filming a scene where a bus goes off a bridge. This would tie in with the previous reports that Millington's US 52 bridge would be closed for filming, and a set photo does appear to show a bus going off the road. [Comic Book Movie]
---
Avatar 2
Zoe Saldana says she believes filming might begin next year:
"No. I heard that we might go next year so I'm really psyched. I'm keeping my bags packed. I would do anything for that man and for that project, so I'm waiting."
---
Star Trek 2
Co-writers Alex Kurtzman and Roberto Orci discuss what effect the various delays have had on the sequel development:
Kurtzman: One thing that was really good is that even though there was this pressure of a deadline, I think we all felt so strongly that we had to protect Trek. And so we had the luxury while JJ was making [Super 8] and while we were doing other things to take real time to break the story. And for us story is 90% of it. It was great and we felt the confidence that now to move forward.

Orci: And some of the ideas for the second one came from when we were talking about the first movie. We never do this because we think it is bad luck to think of the next movie and counting your chips…Every movie needs to stand on its own. Part of the reason we went the Nimoy way and made it an alternate universe is because we knew it would free us and free the franchise from what came before so we couldn't help ourselves from thinking about sequels.
---
Contagion
Here are six character posters that show off the awesome cast for Steven Soderbergh's viral outbreak movie. [FirstShowing.net]
---
Abraham Lincoln: Vampire Hunter
The great Alan Tudyk discusses his role as Stephen Douglas:
"I'm Abe Lincoln's political foil. Historically, Stephen Douglas was initially engaged to Mary Todd, who became Abe's wife. They were fellow Senators and they battled it out for the presidency. Stephen Douglas was a flip flopper. He started out his career being opposed to slavery, then he married someone with a plantation and saw all of the money coming in - it was then politically expedient to be pro-slavery... Whenever there's a political statement to be made, Stephen wanders into the movie to represent the other side. Also, historically, Stephen Douglas worked closely with vampires to realize his political ambitions. Working with Rufus Sewell, the big baddie vampire, was great. So was Ben Walker, who plays Abe."
---
World War Z
The movie's release date has been officially set for December 21, 2012. [ComingSoon.net]
---
The Adventures of Tintin: The Secret of the Unicorn
Here are some promo images. [IGN]
---
R.I.P.D.
Stephanie Szostak, who previously appeared in Dinner for Schmucks, is reportedly in talks to play the wife of Ryan Reynolds's undead police officer. [Heat Vision]
---
Apollo 18
Here's a TV spot.

---
Sin City 2
I'll still be shocked if this thing ever materializes, but here are a couple more updates from Robert Rodriguez:
"Sin City 2 is going good, we're just finishing the script for that, we already got the money. We have everything we need so we can just start shooting as soon as we get the pages. And it's the same thing for Machete 2. We've already got the budget, just waiting for the script. As soon as we're finished writing we get to start the shoot."
He expands on that elsewhere:
"Our company is the other way around. We've got the financing, we're just waiting for the script. So the focus is where it should be. You're not worrying about the money, you're just making sure the script's where it should be. So whichever one has the script ready to go first. Sin City has so many effects, conceivably you could shoot Machete 2 after and it could still come out before Sin City 2. So how the distribution goes, I'm not sure, but they might just end up shooting around the same time."
[We Got This Covered and The Playlist via FirstShowing.net]
---
G.I. Joe 2
Bruce Willis is reportedly now in negotiations to play the original G.I. Joe, General Joe Colton, a part for which he has long been rumored. [Heat Vision]
---
Doctor Who
The BBC has released another poster. Bigger version at the link. [EW]
---
Fringe
Here are some set photos from last week. [Susan Gittins's Flickr]
---
Star Trek: The Animated Series
New Trek writers Roberto Orci and Alex Kurtzman say they would love to make an animated Star Trek spin-off in much the same way they developed Transformers Prime:
Orci: We have asked about [an animated Star Trek series]. We have asked what the rights are and who owns it and what are the possibilities. It is a very early – kind of "is this a possibility?" and we are waiting to hear back. But we would love to do it.

Kurtzman: We just had the experience of doing Transformers: Prime on The Hub. We learned a lot from that experience and it would be cool to do something like that from Trek.
I'm not sure about this - without James Doohan around to do all the voices, I'm not sure how an animated Star Trek could even work. [Trek Movie]
---
Game of Thrones
George R.R. Martin has released some cryptic clues for who has been cast in a couple roles. For one, he's confirmed that Ben Crompton will play Dolorous Edd Tollett, while the other is thought to refer to Michael McElhatton as Roose Bolton, but that hasn't been confirmed as yet. [Not A Blog]
Elsewhere, Karl Davis of the British soap Emmerdale has reportedly been cast as Alton Lannister, a character with no immediately obvious counterpart in the books. [Access Hollywood]
---
The Walking Dead
Sarah Wayne Callies describes the upcoming flashback featuring a pre-outbreak Lori and Shane:
"It was fun to step out of the zombie world and show Lori with a BlackBerry. The scene underscores how deeply Lori and Shane love [her son] Carl, plus I hope it will finally put to bed the ridiculous rumors that an affair was going on before [Lori's husband and Shane's friend] Rick 'died.'"
[TV Guide]
---
Chuck
Lost's Jeff Fahey will reportedly play "Karl Sneijder, the president and CEO of diamond giant Natal Jewelers" who has "been under CIA scrutiny in the past for alleged criminal activity, [but] nothing has ever stuck." He reportedly will enlist Chuck and Sarah's help in the second episode to save his innocent, kidnapped brother, who will be played by Smallville's Justin Hartley. [TV Line]
Episode three will reportedly be called "Chuck vs. the Frosted Tips" and feature "a WikiLeaks type character." [ChuckTV]
Here's a description of Chuck and Sarah's spy agency, Carmichael Industries:
Chuck and Sarah are taking full advantage of their new professional autonomy, particularly when it comes to the design and look of their new spy shingle. I hear the offices of Charmichael Industries will look like the cool rec room you always wanted as a kid but never had. We're talking pinball machines, candy-filled jars and other kitschy goodness. It's the kind of set-up that would make General Beckman lose her will to live, so it's probably best she's only around part-time this season.
[TV Line]
---
Terra Nova
New Zealander actress Simone Kessell has reportedly been cast in a major recurring role as Alicia Washington, the second-in-command to Stephen Lang's Commander Taylor. [Deadline]
---
Person of Interest
Here are some cast photos. [SpoilerTV]
---
Once Upon a Time
Canadian actress Keegan Connor Tracy will reportedly play the Blue Fairy in the pilot, a part the producers had originally hoped to get Lady Gaga for. [TV Line]
---
American Horror Story
Jamie Harris, who has appeared in Rise of the Planet of the Apes and The Green Hornet, will reportedly play "a sociopathic killer" on the show. So, probably some sort of villain, then? [ShockTillYouDrop]
Young and the Restless actor Michael Graziadei has reportedly been cast as the young boyfriend of Jessica Lange's nosy neighbor Constance. [Deadline]
Episode two is reportedly called "Murder House." [SpoilerTV]
---
Warehouse 13
Here's a promo and sneak peek for next week's "Don't Hate the Player", guest-starring Eureka's Fargo.

---
Eureka
Here's a promo and sneak peek for next week's episode, "Of Mites and Men."

Syfy has also released this short description:
When things start melting around Eureka, Carter and Allison discover something is literally eating through Global Dynamics. Guest starring Ming Na.
---
Haven
Here's a description for episode six, "Audrey Parker's Day Off":
Audrey finds herself repeating the same tragic day, and she alone is aware of it - but the more she intervenes, the closer the catastrophe comes to her and her friends.
---
Teen Wolf
Here's a promo for the finale, "Code Breaker."

---
Additional reporting by Mandy Curtis and Charlie Jane Anders.