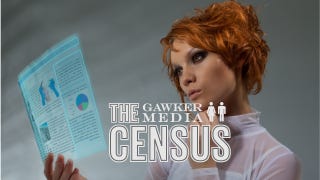 This year, a total of 4,112 io9 readers stood up and spoke their piece by filling out the 2011 Gawker Media Census. It turns out that even though you generally prefer your science fiction in the printed form, you still fiend for some moving pictures. Out of the 92% of readers who regularly watch sci-fi on tv, 47% watch 9 hours of TV or more per week.
Reader/commenter extraordinaire Marquette Madness earned himself a new iPad 2 with which to watch any number of glorious television programs. Then again, if he's anything like you, he'll probably be downloading apps like Marvel Comics for iPad or iBooks.
As always, thank you for your input and have fun devouring your next heady tome/out-of-this-world TV show!