Serbian president Tomislav Nikolic unveiled a monument to Nikola Tesla yesterday at the Serbian-born scientist's former Wardenclyffe laboratory in Long Island.
The ceremony comes not long after Matthew Innman, creator of webcomic The Oatmeal, succeeded in raising the funds required to buy back Tesla's old laboratory.
With the help of an $850,000 matching grant from New York State, the total funds raised wound up exceeding 2-million dollars. But the long-standing endeavor to convert Tesla's old lab into a museum is far from over. Via The Guardian:
The sale was completed in May 2013, but the laboratory is not close to reopening yet. The tumultuous history of the site – including use as a dumping ground for highly toxic chemicals while it was owned by a photography company – means the project is a huge undertaking. Volunteers had worked to improve the grounds over the summer, however, and with the Tesla statue now standing at the end of a lawn looking back at the iconic laboratory the site is beginning to take shape.
G/O Media may get a commission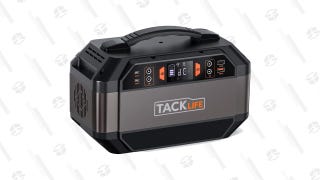 Tacklife Portable Solar Generator
In an interview with The Guardian, Nikolic encapsulated what so many have come to appreciate about Tesla and his formidable capacity for innovation: "The strength of Tesla's vision – because you can't forget he died more than 70 years ago – is what influences how the public speaks about Nikola Tesla: with respect."
Read more about yesterday's ceremony at The Guardian and footage at The Tesla Science Center at Wardenclyffe.