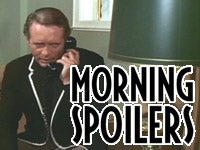 Morning Spoilers
If there's news about upcoming movies and television you're not supposed to know, you'll find it in here.
Some nightmarish Terminator Salvation set pics reveal quite how skull-happy the film will be. We uncover Friday's Battlestar cliffhanger. Heroes and Lost pics are the future. Plus Transformers, Green Lantern, Dollhouse, Smallville and Supernatural mega-spoilers!

Terminator Salvation:
Radar Magazine has some kick-ass new set pics. John Connor's helicopter crashes in the water and he gets attacked by hydrobots. Also, Connor gets chased by a prototype of the T-800. And at one point he falls down a vent shaft and lands on a bed of Terminator skulls, with the glowing eyes. And check out the human skeletons in the church. More pics at the link. [Radar]

Transformers: Revenge Of The Fallen:
The production went to great expense to shoot on top of a mountain in Jordan. [TLAMB]
Green Lantern:
The new film will be suitably cosmic, says co-writer Michael Green. And Warner Bros. encouraged him and the other writers to include tons of elements of the DC Universe in the film, so it's very recognizeably connected to the broader universe. (Whether this just means the much-discussed Clark Kent cameo, or something else, I'm not sure.) [IGN]
Friday's new episode features two major character deaths. And one of the final five's life is left hanging in the balance at the end of the episode, which is the major cliffhanger. (And it's a "he," but it's not Tigh. Everybody's assuming this means Anders.) But the Adama firing-squad sequence is "all a dream." [The TV Addict]
Dollhouse:
In the show's second episode - the bow-hunting Most Dangerous Game riff - Eliza is scantily clad and kicks butt. And we see flashbacks that show how certain people came to work at the Dollhouse. Also, Mark "Romo Lampkin" Sheppard joins the cast as a skeptical character. [The TV Addict]
Here's some B-roll (for use in newscasts and features, while the announcer talks over it) that shows some behind-the-scenes filming. [SpoilerTV]

And here's what happens in episiode three, "Stage Fright":

Echo provides protection to a pop star by becoming her backup singer. Ballard's investigation, meanwhile, takes a wrong turn that may prove dangerous; and Lubov has a secret.
And there's a character called "The Fan." [SpoilerTV]
Lost:
Here are some photos from episode 5x05, "This Place Is Death." Looks like a Jin-heavy outing. [Doc Arzt]

Daniel Dae Kim says he always knew Jin wasn't dead, even though the producers were playing coy. And the episode will explore who are all these people - is this Rousseau's team, and what are they doing on the island? And we should be wondering if there's some way the information that Jin is alive could somehow reach Sun. We will see more of the smoke monster this season. [E! Online]
Heroes:
Zachary Quinto and Greg Grunberg were filming in downtown L.A., and Quinto sported an unusual ensemble: pajama pants, cowboy-ish boots... and a gunshot wound in the back of the head. Could Sylar finally be dying off? We can only hope. More and bigger pics at the link. [JFX Online via Heroes Television]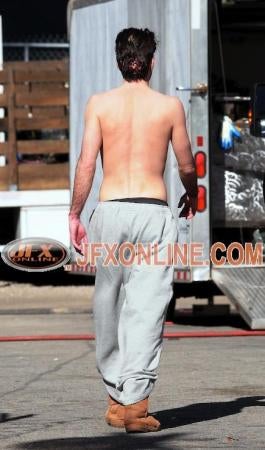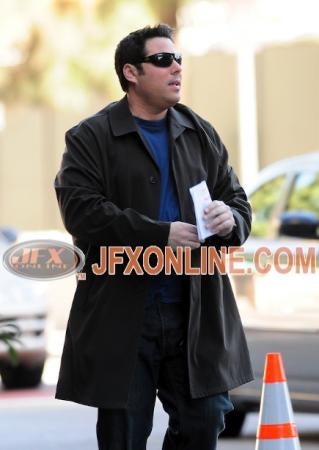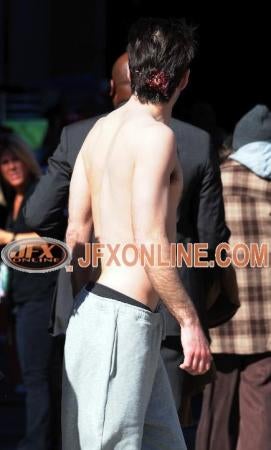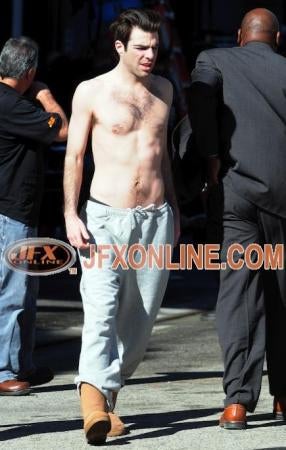 Terminator: The Sarah Connor Chronicles:
Here's another new still from episode 2x15, "Desert Cantos." [Sarah Connor Society]

Smallville:
For the rest of the season, Davis will be in a bad situation, says actor Sam Witwer. We won't be seeing much smiling from him from now on. Also, he says his character will easily smash Flash and Aquaman. And Aquaman's dolphins. Also, in case it wasn't already clear, he says Davis is just a garment that Doomsday wears, that forgot it was just a disguise. But you won't be hearing any of Witwer's music on the show, because all of his lyrics are too obscene. [CW Connect]
Supernatural:
Castiel will be back in March, for several episodes, says actor Misha Collins. And he'll be around next season as well, if it's renewed for another season. [CW Connect]
We don't know if Eric will break up Sookie and Bill, but he does add enough conflict for there to be a frisson, says actor Stephen Moyer. Lafayette may be back at some point. Tara's still struggling to find her way, and it's still possible she could end up with Sam - their relationship is complicated. [E! Online]
The animated DVD movie still follows the basic storyline that original writer Gail Simone laid down: The amazons have Ares imprisoned, but he escapes and Wonder Woman has to stop him. And Diana, who's been raised to believe men are evil, has to learn that both men and women are flawed, says writer Mike Jelenic. [Newsarama]
Additional reporting by Alasdair Wilkins.