While scheduling conflicts kept Sorcerer's Apprentice co-star Teresa Palmer from joining the next Mad Max film, it's not stopping her from playing an alien bad-ass in D.J. Caruso's I Am Number Four. Learn why Palmer might be the next Angelina.
The alien fugitive movie I Am Number Four is really kicking up a lot of excitement, what can you tell us about it?
I'm really excited to be working on I Am Number Four, it's about aliens and I have magic powers in that film. It's great I think a lot of these movies are starting to get made and I think it's great. I've been lucky to have been cast in them. It's not something I do on purpose, maybe I do gravitate towards that certain material...
How is this character different than your character in Sorcerer's Apprentice?
Becky, from Apprentice, is really sweet and open, she's a really kind-hearted person. Whereas Number Six in I Am Number Four she is an alien from planet Lorien. She's a warrior. She's a martial artist, she rides Ducatis. She's very much like Angelina Jolie in Wanted or Tomb Raider. She's just a bad-ass, scary, intimidating character. She doesn't really take crap from anybody. She's definitely not one to mess with, Number Six. She hunts her enemy alien down.
G/O Media may get a commission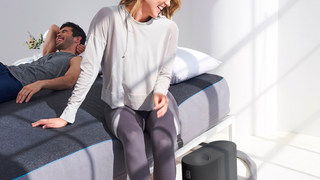 Eight Sleep Pod Cover
I've been in training for the last two months doing stunt work and sword work and shooting guns and riding on motorcycles, the Ducati. It's been really interesting. It's the most physically challenging role I've ever had.
The Sorcerer's Apprentice his theaters July 14th.