Looks like we're trading car-surfing for a Selena Gomez-type cast in the new MTV Teen Wolf series. Four baby-faced teens have been cast, and now they hold the future of beer bonging werewolves in their hands. Plot details revealed.
Above is Tyler Posey, you may remember him as the little boy from Maid in Manhattan...no? Well, he snagged the lead role in the Teen Wolf remake which is being called a, "dramatic thriller with a buddy-comedy element at the center and a romantic plot line," by the trades. Let's hope his buddy is a Mummy. Posey is playing Scott McCall a, "dorky high-school student who gets a rush of new powers, including the ability to attract girls, after a wolf attack."
His evil nemesis — besides math tests and high school crushes — will be played by Tyler Hoechlin will play a, "handsome local boy who in fact is a vicious and predatory werewolf capable of great harm." See the picture below.
Bad Wolf:

G/O Media may get a commission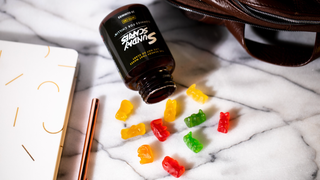 10mg CBD Gummies (22-Count)
Love Interes/New Girl, Crystal Reed:
I still haven't found a picture of the "skeptical wise cracking best friend" Dylan O'Brien, who at first rejects Sam's theory that he is, in fact a werewolf, but eventually become the nerd/brainy supernatural expert.
My only problem with this reimagined franchise isn't the baby faced, actually teenaged teens, nor the idea that this will be a toned down version of the original. My only issue is that there is little to no mention of basketball.
[via THR]