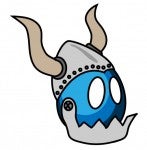 Are you hungry to get the latest news on tabletop games? Now you've got a place to go for the scoop - today, io9's Ed Grabianowski launched his new, dice-centric blog Robot Viking.
When he's not risking his life driving in destructo-races, Ed has written a lot about tabletop gaming and miniatures for io9. Now you can get 100% pure gaming news from him every day. Not only is Robot Viking the coolest name ever, he's launched with a special preview peek at the latest tiny giant Martian to invade popular game Monsterpocalypse.
About his blog, Ed writes:

From old standbys like Magic: the Gathering, Dungeons & Dragons or HeroClix, to newer games like Monsterpocalypse or slightly obscure RPGs like CthulhuTech, we'll offer reviews, strategy guides and exclusive previews of upcoming releases.

Our goal at Robot Viking is to offer gamers something fun and interesting every weekday, whether it's a game review, strategy article or a photo gallery of some sweet miniatures. While we will focus on games with a fantasy, sci-fi or horror theme, we'll also have some coverage of war games and board games. If dice, cards and pencils are involved, we're interested.
Hell yes. Put that one in your RSS reader.
Check out the power and the glory at Robot Viking.