Earlier this week we posted a spoiler free review of Syfy v10_medium" alt="Syfy's Alice Was Saved By A Hatter" title="Syfy's Alice Was Saved By A Hatter" />Alice In Wonderland remake. The miniseries has come and gone with mixed reviews, but we're curious to see what you thought. Spoilers below.
First off, the movie looked great. The 1960s inspiration was fantastic, and the all of the landscapes were extremely impressive for the seemingly small budget. I especially enjoyed the House of Cards Casino.
The modernized plot, in which the Red Queen was kidnapping humans and sucking them dry of their emotions for profit, was just gonzo enough, and had that dark twist that kept us present in a modern day wonderland.
G/O Media may get a commission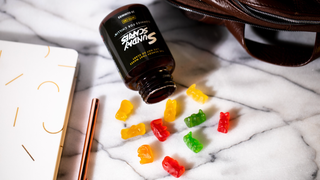 10mg CBD Gummies (22-Count)
I stand by my standing ovation for the hopelessly charming and impossible to forget Andrew Lee Potts' Hatter. He was the heart and soul of this film. Even when the plot dragged on and the pacing died down it was consistently Potts who helped the cast pick up the pace. Plus he's exceedingly easy on the eyes.
But here's the rub. The chemistry between Alice and Hatter is great, not amazing, but I believe it even when the plot fumbles around with the characters. At the same time, I'm not really sure why these two like each other, besides the fact that Potts is charming and saved Alice's life a few times. But it's hard to understand what's going on in the Hatter's head. First Hatter wants to sell her ring, then he wants to use it to get to the other side and start over, and finally he wants to use it to lead the resistance. Sure characters can change their minds, but this happens so quickly and jerkily, the feelings behind these exceedingly strong sentiments are lost in the shuffle.
The same goes for Hatter's growing emotions for Alice, in the first half he mutters under his breath that Jack is a lucky guy and that later acts jealous when he finds out that Jack is the Prince of Wonderland. But we still never really understand the motivations or reasons why he fancies her. And it started so well, with the half-pervy half-sweet line, "Can't I be nice to a girl in a very wet dress?" We never really knew what his intentions were, at any time. Still we knew he wanted to be with Alice, based on the puppy-dog eyes he kept giving her.
The rest of the star cameos came and went rather quickly. Tim Curry yelled a lot and was gone forever, Colm Meaney managed to eke out some strange remorse for loving his heartless Queen Kathy Bates for so long, so much so that he stayed behind and died in the collapse of the casino while the Queen didn't even bat an eye. Very odd. I would have hoped that this would make her care a bit, but no dice. Matt Frewer was a loveable old Knight, until he dug up a bunch of his old companions to act as scarecrows. This moment was totally lost on me and I didn't understand why these skeletons were intimidating at all, if they couldn't fight.
The Father and the Carpenter plot line also made only the tiniest bit of sense, and rang dangerously close to The Tenth Kingdom, especially when Alice was pleading with her mind-wiped Daddy to save her life, so I was fine when he was axed in the end.
The heart of the story is the love story between Hatter and Alice, and while I hated not really understanding why things were so dangerously slow in some places, I adored the little moments here and there, like when you piece it together in the end that Hatter must have jumped through the looking glass moments after Alice left. I'll watch it again, if only to try and wrap my head around a few of the editing and plot decisions, like making Mad March from Long Island. But all in all I had fun, developed a new crush and enjoyed the gorgeous scenery. Horrible truth room CG background, flying flamingos and all.
But what did you think?