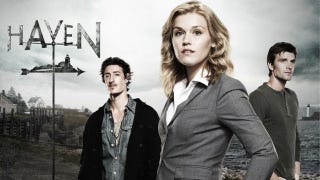 Last week's Friday episode of Haven was pulled out of respect to the victims of the Sandy Hook Elementary School shooting.
According to Deadline Syfy released this statement about the decision to reschedule.
Last Friday's 10PM episode of Haven contained scenes of fictitious violence in a high school setting and in light of the recent tragedy, we have decided to reschedule it along with the series' season three finale, originally slated to air this Friday, December 21st at 10PM. The final two episodes of season three of Haven will now air back-to-back on Thursday, January 17th from 8-10 PM (ET/PT) to maintain the integrity of the series' serialized nature.