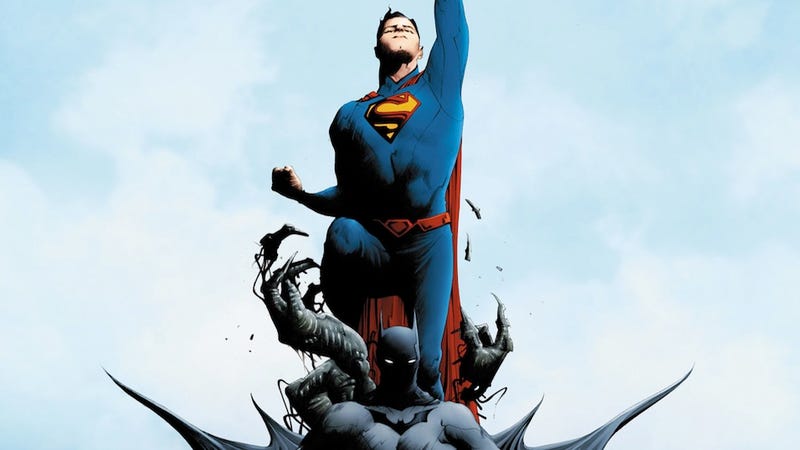 The tale of the first New 52-niverse meeting between the Man of Steel and the Dark Knight will finally be told. Greg Rucka brings his dark new scifi epic Lazarus to Image. Most importantly, Hawkeye's Pizza Dog gets the recognition he deserves. All this and more in this week's comics!
---
New Issues
Dark Horse:
• The Last of Us: American Dream #3: The comic based on the hit survival suspense game continues, as Riley and Ellie become trapped between the military and the infected.
• Akaneiro #2: American McGee's radical reinterpretation of the story of Little Red Riding Hood throws Kani against a host of mythical beats from Japanese folklore.
• Other releases: Amala's Blade #3, Angel & Faith #23, B.P.R.D.: Vampire #4, King Conan: Hour of the Dragon #2, The Massive #13, Mind MGMT #12, Star Wars: Legacy II #4.
DC:
• The Unwritten #50: Beginning the much-anticipated Unwritten/Fables crossover!
• The Wake #2: Scott Snyder's new tale of underwater horror and suspense continues.
• Justice League #21: The conclusion of Shazam's new origin.
• Batman/Superman #1: The first meeting of Superman and the Dark Knight in the New 52-niverse is revealed.
• Other releases: Adventures of Superman #2, All Star Western #21, Aquaman #21, Arrow #8, Batman: The Dark Knight #21, Catwoman #21, Django Unchained #5, The Flash #21, The Green Team: Teen Trillionaires #2, He-Man and the Masters of the Universe #3, Injustice: Gods Among Us #6, Justice League Dark #21, Justice League of America #5, Larfleeze #1, Red Lanterns #21, Superman #21, Talon #9, Teen Titans #21,
IDW:
• Mars Attacks: Classics Obliterated: Those attack-loving Martians take on Moby Dick, Robinson Crusoe, and Dr. Jekyll and Mr. Hyde.
• Godzilla: Rulers of the Earth #1: With countless giant monsters roaming the planet, Godzilla has no interest in being #2. First on his hit-list: Zilla.
• Other releases: Doctor Who: Prisoners of Time #6, Ghostbusters #5, Judge Dredd #8, Kiss Solo #4, Star Trek #22, Teenage Mutant Ninja Turtles #23, True Blood #14, Vitriol the Hunter #5.
Image:
• Lazarus #1: Forever Carlyle protects her family's estate in a dystopian future as its Lazarus. But getting killed isn't the worst thing that's going to happen to her today.
• Morning Glories #28: The double-sized conclusion to the season two premiere, whatever that means!
• Jupiter's Legacy #2: Mark Millar and Frank Quitely's semi-homage to Superman continues as the rest of the superheroes plot to remove the greatest hero from power.
• Other releases: Bounce #2, Clone #8, Elephantmen #49, Fatale #15, Five Ghosts: The Haunting of Fabian Gray #4, Hoax Hunters Case Files #1, Prophet #36, Sex #4, Think Tank #8.
Marvel:
• Hawkeye #11: Pizza Dog is hired to solve a murder in his own spotlight issue. Seriously, this comic is the best.
• Age of Ultron #1 AI: Not to be confused with regular ol' Age of Ultron. Hank Pym makes the ultimate sacrifice to destroy his rogue creation, and forever changes his role in the Marvel U.
• Guardians of the Galaxy #4: Gamora's secret may destroy the team.
• X-Men #2: The school is on lockdown… but it's not just the good guys that are trapped inside.
• Other releases: All New X-Men #13, Avengers Arena #11, Captain America #8, Daredevil #27, Deadpool #12, FF #8, Fury Max #13, Gambit #14, Journey Into Mystery #653, Nova #5, Powers Bureau #5, Scarlet Spider #18, Secret Avengers #5, Ultimate Comics X-Men #28, Ultimate Spider-Man #15, Uncanny X-Force #7, Uncanny X-Men #7, Wolverine #5, Wolverine and the X-Men #32, Young Avengers #6.
Other:
• Uncanny #1: A con man with the ability to "borrow" people memories, talents and more — suddenly discovers he's not unique, but he is in danger.
• Five Color Comics #1: Bruce Timm leads an all-star team creating an homage to the pulp comics of yesteryear, including jungle girls, giant apes, and more.
• Atomic Robo: Savage Sword of Dr. Dinosaur #1: Honestly, if the title doesn't compel you to check it out, nothing will.
• Other releases: Adventure Time #17, Alternative Comics #4, Battlestar Galactica #2, Bodie Troll #2, Crawling Sky #4, Crossed Badlands #31, Executive Assistant Assassins #12, Fathom: Elite Saga #2, Grimm Fairy Tales #86, Grimm Fairy Tales Annual 2013, Grimm Fairy Tales Wonderland #12, Jirni #3, Masks #8, Mouse Guard: Legends of the Guard Vol. 2 #1, Peanuts Vol. 2 #9, Red Sonja #77, Red Sonja Unchained #3, Regular Show #2, Steed and Mrs. Peel #9, Tarot: Witch of the Black Rose #80, Vampirella #20, X-O Manowar #14.
---
Trade Paperbacks and Hardcovers
Dark Horse:
• The Original Daredevil Archives Vol. 1: Fighting alongside such heroes as Nightro, Pat Patriot, and the Bronze Terror, the Golden Age superhero Daredevil fights Hitler in this collection of classic comics.
• Other releases: Oreimo Vol. 3, Usgai Yojimbo Vol. 27: A Town Called Hell.
DC:
• Hellblazer: Death and Cigarettes: The final collection of the original adventures of John Constantine finds the magician heading to Ireland to find his long-lost nephew, whose cursed Constantine blood may have driven him insane.
• Superman Family Adventures Vol. 1: The first collection of the all-ages comic features Superman, Superboy, Supergirl and even Krypto! There aren't too many comics you can give to kids nowadays, but this is one of them.
• Other releases: Before Watchmen: Minutemen & Silk Spectre, Before Watchmen: Ozymandius & Crimson Corsair, Red Hood & the Outlaws Vol. 2: Starfire, Superman Vol. 2: Secrets and Lies, Superman Vol. 1: What Price Tomorrow (trade paperback).
IDW:
• True Blood Vol. 1: All Together Now: Trapped in Merlotte's by a demon that devours shame, Sookie and the rest must reveal their most horrible secrets.
• Adventures of Augusta Wind: A snabbit — a half-snake, half-rabbit — tells a young girl that her normal life isn't what it seems in this all-ages fantasy.
• Other releases: Archie Complete Newspaper Comics Vol. 2, Complete Chester Gould Dick Tracy Vol. 15, Real Ghostbusters Omnibus Vol. 2, Transformers Classic UK Vol. 4.
Image:
• Change: "Dear Los Angeles: meet apocalypse. You have one day left. Unless, of course, someone decides to save you. Possible saviors include: a foul-mouthed struggling screenwriter who moonlights as a car thief, an obscenely wealthy rapper, a dying cosmonaut on his way back to Earth and one very deranged little boy. Good luck."
• Other releases: Fatale Vol. 3, Hack/Slash Vol. 13: Final, Moriarty Deluxe Edition, Outlaw Territory Vol. 3, Witchblade: Rebirth Vol. 3.
Marvel:
• Star-Lord: Hollow Crown: The new, updated origin of Marvel's space-cop Star-Lord! I still can't believe Chris Pratt is playing this guy.
• Castle: The Calm Before the Storm: The graphic novel based on the book starring the character created by an author who is in fact a character played by Nathan Fillion on a TV show must prevent World War II and avenge his mother.
• Other releases: Fantastic Four Vol. 6, Hulk: From the Marvel UK Vaults, Marvel Masterworks Avengers Vol. 5, Ultimate Comics Ultimates Vol. 1, Ultimate Comics Wolverine: Legacies, Wolverine and the X-Men Vol. 5, Wolverine by Larry Hama and Marc Silvestri Vol. 1.
Other:
• The Killer Omnibus Vol. 1: Archaia prints the hard-boiled French noir comic, following a professional killer at the end of his career and his nerves.
• Clockwerx: A mysterious corporation and a band of mysterious rebels fight over the power source of the automatons that serve 1897 London in this steampunk tale.
• Other releases: Air Gear Vol. 28, Amazing Agent Luna Vol. 9, Aron's Absurd Armada Omnibus Vol. 2, Avalon Chronicles Vol. 2, Beast of Wolfe's Bay, Bloodshot Vol. 2: Rise and the Fall, The Boys: Definitive Edition Vol. 5, Eyes of the Cat: Yellow Edition, Higurashi Vol. 22, Homesick, Jack the Ripper: Hell Blade Vol. 4, Kingdom Hearts: Chain of Memories Vol. 4, Kitchen Princess Omnibus Vol. 4, Magic Wind Vol. 1m New School, Pandora Hearts Vol. 16, The shadow Vol. 2: Revolution, Tarot: Witch of the Black Rose Vol. 11, Triage X Vol. 3, Utusbora: Story of a Novelist Omnibus, War Machine, Warlord of Mars: Dejah Thoris Vol. 4, Zebrafish SPF 40.
---