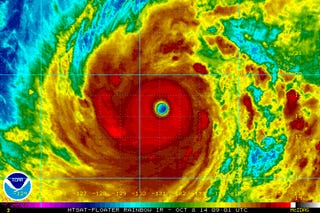 Over the course of 24 hours, Typhoon Vongfong rapidly strengthened from a Category 3 to Category 5. With sustained winds approaching 170 mph (272 km/h), the storm is heading straight towards Japan — a country still reeling from Typhoon Phanfone.
Vongfong is the strongest tropical cyclone of the year, and the strongest since last year's Typhoon Haiyan which featured 195 mph (315 km/h) winds and devastated parts of the Philippines, leaving over 6,000 dead and more than 1,800 missing. Haiyan also struck Japan, leaving terrible floods in its wake.
The current super Typhoon — now at a Cat 5 — is currently spinning over open water. It's heading north towards the Japanese island prefecture of Okinawa. Typhoons graduate to 'super' status when winds reach 150 mph (241 km/h).
It's moving slowly in a west-northwest direction. Prior to its current trajectory, it passed by the Pacific island of Guam where it deposited heavy rain and causing minor damage.
(Weather Underground)
Thankfully, if the typhoon maintains its current course towards Japan, it is expected to lose its intensity, dropping to a Cat 3 by the time it reaches shore at the southern Japanese island of Kyushu on Saturday October 11. That said, Japan is once again bracing for floods.
[ CNN | Weather Underground ]