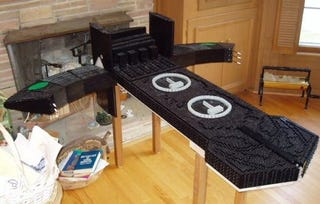 Still missing the Asgard now that all of the Stargate shows are canceled, and you can't wait for teen Stargate to start? Until then you play with this giant Lego Asgard Beliskner Battleship.
That's right, a Lego replica of the Asgard Beliskner Battleship from Stargate is being sold on EBAY.
According to the artist, it took 3 months to complete and thousands or pieces. (They didn't count.)
FANS OF THE SHOW KNOW THAT THE BELISKNER WAS THE FLAGSHIP OF THE ASGARD FLEET IN STARGATE SG-1 UNTIL IT BURNED UP IN EARTH'S ATMOSPHERE. AFTER WATCHING THE SERIES I KNEW THAT I HAD TO BUILD THE SHIP OUT OF LEGOS, THE THE RESULT WAS A INCREDIBLY LARGE AND DETAILED SHIP THAT MEASURED FIVE FEET LONG, SIX FEET WIDE, AND TWO FEET HIGH.
It is available for pick up in Highland Park, Illinois which means, mom and dad, that next years Christmas gift is just a car ride away! The "buy it now" price is $3,500.00
[via Geekologie]