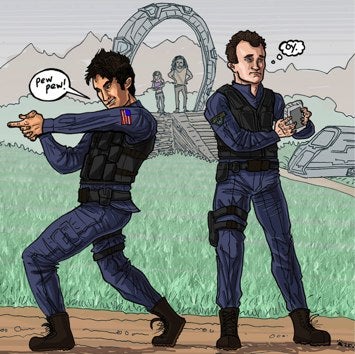 Picking up where the series left off, Dynamite Entertainment is publishing three Stagate series comics (one for each TV series). But we're all extra excited for the Rodney McKay art.
According to Dynamite, the SG-1 comic will be called Season Eleven and Stargate Atlantis will be titled Season Six. You see what they are doing here, yes? The SG-1 series will be penned by Doug Murray, SGA by Battlestar Galactica comic vet Brandon Jerwa and the new SGU series will be written by Chuck Dixon, with covers from Dave Dorman and interiors by John Watson.
These will be Stargate's second comic incarnation; Avatar previously held the license. There is no release date set just yet.

(No, this is not an image from the new comic - it's from artist twoseamfastball).

[Via CBR]