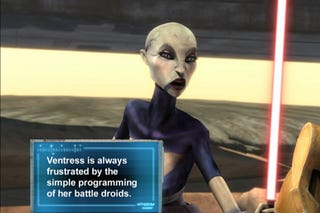 If you missed Cartoon Network's Star Wars: The Clone Wars the first time around, you'll have a chance to relive the entire first season this summer... and this time, it'll be accompanied by brand-new commentary.
Star Wars: The Clone Wars Decoded is just the latest show to adopt Pop-Up Video-style visual commentary to spice up re-runs, but don't worry; this won't be another Lost-style idiot-proof, spoiler-filled "enhanced" repeat. For one thing, the commentary will be created by the people responsible for making the show, and for another, nothing could be as bad as the commentary on the enhanced Losts.

You can see a sample of the revised show here; it starts its run on Cartoon Network on May 1st.
The Clone Wars: Decoded on May 1 on Cartoon Network [Star Wars.com]