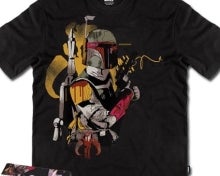 For those who prefer their Star Wars t-shirts to be more legal and contain fewer references to masturbation, hipster UK clothing brand Addict has exactly the thing for you.
UK Streetwear brand Addict have teamed up with Lucasfilm to produce exclusive boxed tees depicting three of the most iconic characters from the original Star Wars Trilogy! Called the Icons Series, it's a one-off set of officially licensed tees illustrated by artist Mitch, known by many for his work in the music industry — Amp Fiddler, Bugz in the Attic, Incognito, The Bees, and Howie B are just a few of the musicians he's worked with.
Sure, Mitch may have the experience of working with musicians I've never heard of — Okay, I know the Bees and Howie B, I admit it — but what gives him the right to draw the most famous minor character in science fiction?
As seen here, for the Star Wars Icons Series, the artist's signature style accurately captures the essence of Boba Fett — not surprising, since the artist counts Star Wars concept artist Ralph McQuarrie among his earliest influences... And like fine art, the t-shirts come packaged in an illustrated custom box — no cheap metal hangers here.
Because, of course, it's always about the package. No, wait, that's the Han Job one again, isn't it? Exclusive Boba Fett Addict T-Shirt [Star Wars Shop.com]