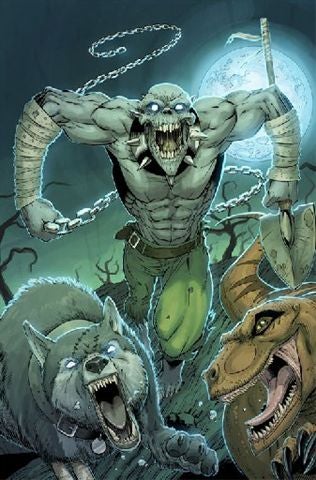 In web cartoon turned comic book Xombie, a sentient zombie protects a lone human girl from the mindless undead. Now DreamWorks is in talks to bring Xombie to the big screen, along with Star Trek's Alex Kurtzman and Roberto Orci.
In Xombie, a zombie named Dirge has somehow managed to retain his human consciousness, though not his memories, and tries to live a quietly life with his undead dog Cerberus until he eventually decays into oblivion. But when a human girl, Zoe, falls from a helicopter into zombie-infested territory, Dirge takes it upon himself to perform one last good deed before he falls apart and guide her to the city of human survivors. The task puts them both in the path of a millennia-old Egyptian mummy woman and a reanimated Velociraptor. Xombie creator James Farr began the story as an online Flash cartoon, then penned a comic book sequel, Xombie: Reanimated.
The Hollywood Reporter reports that Farr, a homicide detective, is currently in negotiations with DreamWorks for the rights to Xombie, with Kurtzman and Orci in talks in produce. No word yet on whether the pair could write the screenplay as well, nor whether the planned adaptation would be animated or live-action.
'Xombie' getting the Kurtzman/Orci treatment at DreamWorks [The Hollywood Reporter]
[Xombie Online]