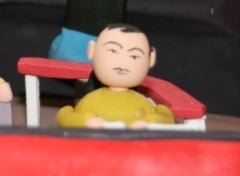 Everyone likes cake, right? Especially if the cake is a Star Trek-themed one made by Charm City Cakes, the crew from Food Network's Ace of Cakes (Hi, Mary Alice). But if that were really true, then what's behind the meltdown from Trek fans once pictures of Charm City's cake were leaked online?
Photos of the cake - which includes an awesome Sulu - were released by the show's producers to fansite TrekMovie.com, and almost immediately, the comments section was filled with anal nerditry:
THIS IS A DISASTER I CAN'T BELIEVE THEY PUT SCOTTY IN THE NAVIGATOR'S POSITION I CAN'T BELIEVE THESE PEOPLE ARE SO CLUELESS ABOUT THE BASICS OF STAR TREK THIS IS A DISASTER
I noticed the redshirt in the navigator's seat too, but all things considered, a minor thing. The cake looks great, especially the smirking Kirk.
Scotty and Uhura are not in the right spots and Chekov is nowhere to be found. Even before Chekov came onto the show Scotty didn't sit there.
Actually Sean, Scotty DID sit at the Navigator's Station on the bridge at the end of the second pilot "Where No Man Has Gone Before" because Navigator Gary Mitchel was dead. There is a picture of it at http://www.trekcore.com. I tried to post the link to the picture but it did not work.


At least some fans aren't overreacting...

Sean:

"Have you ever kissed a girl??!?!?!?!?!"

It's an F-in cake. Turn-off your caps lock and and stop making trekkers look like such OCD losers.


Oh, wait. Never mind.
The Star Trek cake will appear in an episode of next season's Ace of Cakes, which should run next fall.
Ace of Cakes Creates Star Trek: The Cake [TrekMovie]