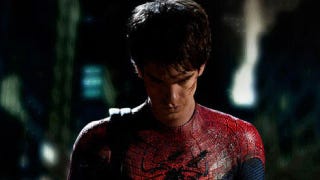 Marc Webb's high school-set Spider-Man reboot is currently filming, and a new set report suggests that the movie's showdown will be a lot more dramatic than the jazz-handed previous installment. Spoilers ahead...
The insider report comes from Big Fan Boy:
One of the primary important crew members (who shall remain nameless) recently let it slip to one of our readers (a trusted one at that) that many of the stunt actors in the film have been spending time in heavy make-up for hours on end because of a fight scene in the film where they're turning all the S.W.A.T. team guys into reptilian creatures
That means minions! An entire S.W.A.T. team of them! We love minions, and usually the more minions there are, the fewer major villains there are to clog up the storyline and add unnecessary extra monologues. Sure, Irrfan Khan was just recently cast as Nels Van Adder but it's sounding as though he's primarily a background baddie (and we'll see more from him in future Spider-Man films). Instead armies of Lizard-faced minions will be storming the streets of New York, and that sounds like a lot of solid, comic book fun.